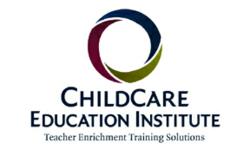 Oral health is an area where you have to initiate instruction early in order to get a firm foothold into a child's habits.
Duluth, GA (PRWEB) October 25, 2012
ChildCare Education Institute (CCEI), an accredited, online child care training institution, encourages all child care providers to take CCEI116A: Early Childhood Oral Health in recognition of National Dental Hygiene Month.
National Dental Hygiene Month is sponsored annually by the American Dental Hygienists Association (ADHA) to remind us all of the importance of proper oral hygiene for lifelong health. Oral hygiene is vital for overall wellness at any age, and promoting proper care habits in early childhood should be a part of the everyday curriculum. CCEI's online course addresses the significance of consistent oral health care for young children and how to effectively instruct appropriate techniques. This course informs early care providers on how to identify the causes and characteristics of dental decay and promotes strategies for encouraging good oral hygiene within the child care environment.
CCEI116A is a beginner level, one-hour course, and awards 0.1 IACET CEU upon successful completion. Online course enrollment and self-paced access are available now. Account holders with an active, annual individual or center-based training subscription may enroll in this course at any time for no additional charge.
"Oral health is an area where you have to initiate instruction early in order to get a firm foothold into a child's habits," said Maria C. Taylor, President and CEO of CCEI. "As the holidays approach with all their treats and sweets, this is a fitting time to brush up on oral hygiene techniques and practices."
About CCEI
ChildCare Education Institute provides quality, affordable professional development programs for continuing education. Over 100 English and Spanish online child care training courses are available to meet licensing, recognition program, and Head Start requirements. Coursework offered by CCEI is used to meet education needs of professionals in a range of child care settings, including family child care, preschool, prekindergarten, nanny care, and more. Additionally, CCEI offers online certificate programs, such as the Online Child Development Associate (CDA), Online Director Credentials, Early Childhood Credential, and more. CCEI is accredited by the Accrediting Commission of the Distance Education and Training Council (DETC), approved by the International Association for Continuing Education and Training to award IACET Continuing Education Units (CEUs), and authorized under the Nonpublic Postsecondary Educational Institutions Act of 1990, license number 837.
For more information, visit http://www.cceionline.edu or call 1.800.499.9907.
ChildCare Education Institute, LLC
3059 Peachtree Industrial Blvd.
Duluth, GA 30097
1.800.499.9907