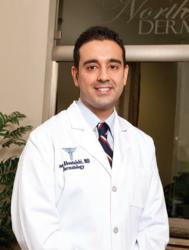 It's definitely an honor to be recognized by our patients. We take pride in working closely with our patients, and we're excited to see such positive feedback
Keller, TX (PRWEB) October 25, 2012
Dr. Sina Aboutalebi is among the select few physicians that have been awarded the prestigious "Patients' Choice Award" for 2012, and 2011.
This award is based exclusively on feedback from patients. Among the nation's 870,000 active physicians and dentists, only 5% consistently receive top scores from their patients on websites such as http://www.vitals.com, qualifying them for this honor.
Millions of patients go online each year to evaluate and rate their doctors based on various components of care, including accuracy of their diagnoses, amount of time spent with their physician, and the doctor's bedside manner and follow-up care. Patients' Choice reviews these rankings and other quality measures to compile its yearly list of award winners.
Dr. Aboutalebi commented on the recognition: "It's definitely an honor to be recognized by our patients. We take pride in working closely with our patients, and we're excited to see such positive feedback."
Dr. Sina Aboutalebi is a board certified dermatologist and the founder of Northstar Dermatology in Keller, TX. He performs medical and surgical dermatology, and focuses on the treatment and prevention of skin cancers such as Basal Cell Carcinoma, Squamous Cell Carcinoma and Malignant Melanoma. Dr. Aboutalebi completed his training in Dermatology at Texas Tech Health Sciences Center where he became well-versed in medical and surgical dermatology. He gained extensive exposure to complex surgical cases due to the overwhelming number of skin cancers in West Texas. He is excited to be back in the DFW metroplex and looks forward to working and growing with the community.
In order to help better accommodate patients, Northstar Dermatology also offers Saturday clinics every other Saturday.
For more information on Northstar Dermatology and Dr. Sina Aboutalebi, visit their website at Northstardermatology.com or call them at (817) 427-3376.