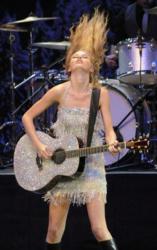 (PRWEB) October 25, 2012
Z100's Jingle Ball 2012 is approaching fast. With the artist line up finally announced, featuring artists like Justin Bieber, One Direction and Taylor Swift, it was no wonder that the tickets for this year's concert sold out within minutes of going on sale Tuesday morning. Luckily there is no need for fans that missed out on this year's ticket sales to be disappointed. Jovani Fashions, the official evening wear sponsor for the event, is giving 5 lucky fans a chance to win tickets to the sold out show.
The New York-based fashion house who announced last week that they would be joining forces with Z100 and Aéropostale for this year's Jingle Ball Concert, will be hosting weekly concert ticket giveaways on Jovani.com starting October 29 and ending November 30. Each week, 1 lucky winner will win 2 tickets to Z100's Jingle Ball 2012 to enjoy the concert with a friend.
This year's Z100's Jingle Ball Concert will feature music performances by Justin Bieber, One Direction, Taylor Swift, Neyo, B.O.B., Cher Lloyd, Jason Mraz, FUN, Ed Sheeran, Olly Murs, and The Wanted. This eclectic line up is sure to light up the stage at Madison Square Garden on December 7th. This is not the concert to miss this year and Jovani is making sure that their fans don't.
Jovani, who recently launched their newest collection of designer prom dresses, is excited to provide this amazing opportunity to the over 1 million monthly unique visitors to their website. Each week, the evening wear designer will post a quiz for their fans to answer and from that a winner will be chosen and announced each Friday on the Jovani website. So make sure to brush up on Jovani trivia to win a set of tickets to this year's hottest concert to hit NYC.
This exclusive opportunity provided by Jovani will make 5 fans and their friends some of the luckiest people in the upcoming weeks. Z100's Jingle Ball 2012 is New York's concert of the year and Jovani is excited to bring their signature glamour and passion for fashion to this year's event. Stay tuned to find out more surprises that Jovani has planned for Z100's Jingle Ball 2012.
Company
Jovani Fashions is a New York-based fashion house that designs and manufactures evening dresses. Offering an extensive collection of prom gowns, evening dresses, bridal and cocktail dresses, in addition to their one of a kind couture designs, Jovani's dresses sell in over 3,000 stores worldwide, including Neiman Marcus, Nordstrom and Bloomingdales. Jovani is known for its quality and glamour and is a favorite among A-list celebrities. Its extensive selection of evening gowns can be seen everywhere from high school proms to Hollywood red carpets.
Contact: Felicia Garay-Stanton and Lianne Gourji
Phone: (212) 279-0222