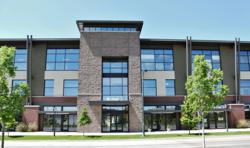 We want to educate our patients on the importance of getting the right nutrients...
Denver, CO (PRWEB) October 26, 2012
The grand opening of Med-Fit Medical Weight Loss Center is scheduled for October 27th from 10am-2pm. The ceremony is an open house style, allowing visitors to come and go as they please and enjoy the provided food, tour the facilities, and listen to interesting educational programs about the weight loss techniques used at the clinic.
Catering is being provided by Whole Foods, based on a menu prepared by Med-Fit founder Dr. Angela Tran. According to Dr. Tran, "I chose foods that were both healthy and delicious. Most of the food planned for the grand opening will be high in protein, complemented with a medley of vegetables. We are promoting whole foods because they're nutrient dense. Patients can learn about healthy foods with their ears, but also with their taste buds as they learn how delicious healthy foods can be."
The menu includes: grilled asparagus wrapped in prosciutto, mini meatballs, chicken pot stickers, Thai skewers, a vegetable crudité platter, strawberry spinach salad, and mini pinwheels which are sliced wraps with southwestern carne asada, roasted turkey and provolone, or hummus and grilled vegetable. Dr. Tran added about the menu, "We want to educate our patients on the importance of getting the right nutrients and transfer their bodies into running mostly off of the fat stores by lowering their carbohydrate intake."
The educational program will also discuss the benefits of the Optifast program being offered by the Med-Fit Medical Weight Loss Center. Optifast is a complete meal replacement program that, according to the manufacturer, averages a 50 pound weight loss accompanied by decreases in blood pressure and cholesterol. All Optifast patients will be supervised by Dr. Tran to ensure their body responds properly and safely to the low-calorie diet.
Also on-site at the grand opening will be the clinic's personal trainer, Rachel Jacobson. Patients who sign up for a weight loss program will receive free sessions with the personal trainer at the clinic's facilities that include 2 recumbent bikes, 1 upright bike, 3 elliptical machines, wall-mounted resistance bands, and stability and balance balls.
Med-Fit's location in Stapleton was selected by Dr. Tran for many reasons. As a Stapleton resident, she knows the facility will be meeting a need in her neighborhood. She also felt the location would be an inspiring one to weight loss patients, "The top view suite offers a great view through huge windows."
About Med-Fit
Med-Fit is a weight loss clinic dedicated to healthy principles for long-term patient success. This includes an emphasis on diet and exercise under the supervision of a physician and other specialists to ensure weight loss programs are effective, safe, and tailored to the individual needs of patients. It was founded in 2012 by Dr. Angela Tran.