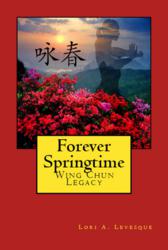 Some women in China are as deadly as Samurai, but you need to read Forever Springtime in order to discover it for yourself.
Middletown, OH (PRWEB) October 26, 2012
Forever Springtime, the first book in The Wing Chun Legacy series written by new author, Lori Levesque, is available October 25, 2012 at Amazon.com in paperback and Amazon Kindle. Forever Springtime is a unique story spanning from China to America in a saga of unrelenting revenge, broken vows, political power, social upheaval, and a bittersweet love. This page turner takes you through the birth of Wing Chun, a martial art developed by the Buddhist nun, Ng Mui, to the Boxer Rebellion during the 1900's, and finally to New York's Chinatown. The Wing Chun Legacy, held by descendent Kai Chen Boussard, will be a salvation and curse that leads to a final battle between good and evil.
What Readers Are Saying:

This book covers almost every aspect in good fiction; history, love, sexual deviance, honor, politics, manipulations, revenge, and war.
Lori Levesque transports you to an era long forgotten and introduces you to a dynasty of female heroines you can't forget.
Levesque has a writing style that draws you into the story and brings the characters to life.
Wow! After reading Forever Springtime, martial arts never seemed more exciting!
I can't wait for Lori Levesque's sequel, Eternal Springtime!
Book two of The Wing Chun Legacy, Eternal Springtime, will be available in 2013.
Forever Springtime is available @ Amazon.com in paperback, for download on all Kindle devices, and for Kindle Apps for iPad, iPhone, iPod, PC, Mac, Blackberry & Android-based devices.
About the Author: Lori Levesque's background in martial arts spans over 20 years studying Tae Kwon Do, Kenpo Karate, and Kali Stick Fighting with a new love for Wing Chun. Lori has a background as a registered nurse, has served in the U.S. Army Reserve and worked in law enforcement for 10 years. Lori currently lives in Middletown, Ohio.
###