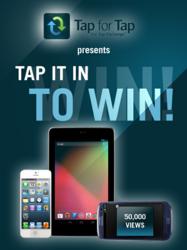 Victoria, BC (PRWEB) October 25, 2012
The "Tap it in to Win!" contest officially began on October 21st, 2012, but entry numbers for the event will be recorded retroactively from October 15th, 2012, when Tap for Tap officially added the Tap Exchange™. In order to qualify for "Tap it in to Win!", mobile app developers will need to be part of Tap for Tap's free Tap Exchange™.
Developers can earn entries in the contest by installing Tap for Tap's new SDK (software development kit) and by generating taps on the Tap Exchange™. Integrating the new Tap for Tap SDK will earn 100 contest entries and each tap generated will earn one additional entry.
"We love being able to give back to our developer community and thank our loyal app developers. This contest is a great way to do just that.," said Todd Dunlop, Tap for Tap's Co-Founder and President.
There is no limit to the number of entries per developer. The first prize winner in the contest will receive an unlocked iPhone 5 from Tap for Tap, while the second prize winner will take home a Google Nexus 7 tablet; the third place winner will receive 50,000 Tap for Tap ad views. "Tap it in to Win!" runs until midnight, November 30th and the draw will take place on December 1st.