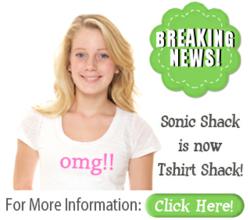 Hilton Head Island, SC (PRWEB) October 25, 2012
Selling T-shirts from own online store has just got easier for T-shirt designers North America. SonicShack, the popular online platform for custom T-shirt designing, is now offering this new service under their new brand name TShirtShack.com. It may be recalled that SonicShack is a five year old online store offering online shirt designing and custom printing service with a great reputation. Most importantly, the dedicated team of SonicShack would still be offering the highest quality of artwork modification and other allied services in TShirtShack.com To make things better, tons of customer friendly features have been included to offer an amazing customer experience.
Making custom designed shirts from the comforts of home is a breeze with TShirtShack.com. Hundreds of complex as well as simple texts, images, and clip arts are present under the designer section of the website. The latest custom T-Shirt designing software from the company offers the easiest alternative for creating a custom designed T-shirt online. The steps involved are picking a shirt and adding text, or simply uploading an image. Surprisingly, it takes only a few minutes to design a stunning T-shirt, when done in TShirtShack.com. Apart from custom T-shirts, the website is also an excellent platform for the creation of custom made sweatshirts, jerseys, and polo shirts.
TShirtShack.com also has an advanced social sharing feature that helps designers grab attention of buyers visiting different social media platforms. Custom designed T-shirts from the store can also be purchased directly from the online store of TShirtShack.com.
About the Company: TShirtShack.com is the new name of reputed online custom T-shirt printing website SonicShack. Under this new brand name, the company is offering a wide array of new facilities to make it an advanced online platform to make money online by designing T-shirts.
Contact:
Jim(at)tshirtshack(dot)com
Website: http://www.tshirtshack.com/
Facebook http://www.facebook.com/teeshirtshack
Twitter https://twitter.com/teeshirtshack
Phone: 877-427-6642