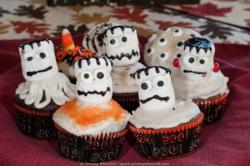 A gluten-free diet can be challenging for kids and parents during the Holidays. Gluten-Free Prairie's mission is to help make it easier
Bozeman, MT (PRWEB) October 26, 2012
All parents can relate to the challenges they face to keep their kids safe. "For parents of children with Celiac Disease or gluten-sensitivity 'safe' takes on an additional meaning, especially at Halloween," says Deb Wheaton, a celiac herself, and co-founder of Montana based Gluten-Free Prairie as well as the mother of a celiac child. Celiac Disease is a genetic disorder manifested by a complete intolerance to ALL foods containing gluten (wheat, rye, barley). It is estimated that 3 million Americans are affected, yet 97% remain undiagnosed. Gluten is hidden in many foods: like soy sauce, modified food starch, even Play Doh, and of course, Halloween candy. Celiac is the only disease on the planet controlled by diet, a gluten-free diet.
Halloween kicks off the holiday party season for many of us with get-togethers centered around food – much of it containing gluten. "Trading candy is often a post-Halloween tradition; and parents of celiac kids have to check every ingredient to make sure the candy is safe and that can be a real challenge. No child wants to be seen as an outsider, and nothing separates kids like food" reminded Deb, who also the author of the popular gluten free blog, notevenacrumb.com.
Bagged Halloween treats can be an issue because the ingredients might be printed on the entire bag, but may not be included on the individually wrapped candy. And that candy is what most often makes its way into our gluten free kids trick or treat bags.
Seven years ago, Deb and daughter, Amy, were diagnosed with celiac disease. Since that time Deb has devoted herself to raising awareness about the disease though her volunteer work with the Celiac Disease Foundation. Last year the family started the gluten- free product line "Gluten-Free Prairie" which is dedicated to providing fresh and healthy gluten-free products.
"Fortunately, the candy issue gets easier every year," Deb reports. "Some very dedicated people have compiled 'Safe Candy Lists' and made them available on-line."
This year's lists can be found on several web sites including the Celiac Disease Foundation: http://bit.ly/TdMthD
Halloween parties can also be a nightmare for celiac parents and kids alike. So with Halloween and the Holidays right around the corner, Deb and her partner/son Jeremy are using their products to create some healthy gluten-free treats. "And pure chocolate is naturally gluten free, so that's a great place to start!"
"Of course, we all eat with our eyes first, and that is especially true for kids. The more we can make eating gluten-free fun, the cooler it will become". By focusing on what gluten-free kids can have instead of what they can't makes it more likely that they will adhere to their diets. To that end, this year the Wheaton's are hosting a gluten free Halloween Party complete with treats made with their gluten-free flours and oats. The Zombie Approved recipe for Gluten-Free Frankie and Friends can be found on the Gluten- Free Prairie website: http://www.glutenfreeprairie.com/recipes.html
"We're making them as scary as possible"