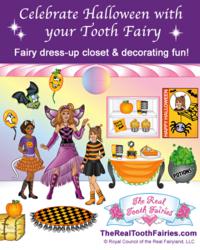 The Tooth Fairy doesn't just bring surprises for a lost tooth, She brings fairy magic to all the events in a girl's life – including holidays like Halloween
(PRWEB) October 25, 2012
The Royal Council of the Real Fairyland announced today the unearthing of their new Spooktacular site features just in time for Halloween! Their website - http://www.therealtoothfairies.com - has just added fun fantasy Halloween fashions, floating Halloween beds, talking pumpkins, singing scarecrows, funny flying bats and more!
"The Tooth Fairy doesn't just bring surprises for a lost tooth," says Marilyn Bollinger, President of the Real Tooth Fairies, LLC. "She brings fairy magic to all the events in a girl's life – including holidays like Halloween!" In the world of the Real Tooth Fairies, every girl can spend endless hours in imaginative play. Girls – or Earthies as they are called by the Tooth Fairies – are busy now decorating their castle hotel rooms as a Halloween playscape. Add to that endless creative dress-up play with a girl's avatar in Halloween costumes, and you have a formula for fun that girls love. New site features offer hugely expanded dress up and decorating play.
TheRealToothFairies.com is designed to be a safe, enriching online place for millions of girls, ages 5 to 10. The site mission is to celebrate every girl's unique talents and build character with positive content like the 20 Lost Tooth Virtues. Girls first get matched to their own tooth fairy and then, with parent permission, enjoy a special friendship as they play with their tooth fairy in Real Fairyland. Parents are part of the complete tooth fairy experience by helping their girl's tooth fairy personalize fairy letters that are flown to a girl's pillow. In this magical world, girls explore exciting fairy settings from the Jewel Garden to the Royal Castle to the Magic Music Studio and Surprises Central.
And now – for free - girls can dress up their ME Doll in 25 different Halloween fashions, while VIP members can fill their dress up closets with 200 different mix and match outfits. They can also decorate their castle hotel rooms with floating beds in Halloween motifs - and VIP's have a party room they can decorate for
But the fun doesn't stop online. While girls are dressing their ME Doll in the Tooth Fairy online world, they are also going out on Halloween in their real world, dressed as their favorite Tooth Fairy.
"Girls love their Real Tooth Fairy," says Bollinger, "So it's natural they want to BE her on the one night they can be anything their heart desires."
Earthie girls from coast to coast will be dressing up as their Real Tooth Fairy for Halloween. The Official Real Tooth Fairies costumes are made in the USA with satin, sequins and lots of fairy dazzle. "This is the one night of the year when you can spot the Tooth Fairy collecting candy instead of lost teeth!" says Bollinger.
About The Real Tooth Fairies
The Real Tooth Fairies are represented to Earthies by the Royal Council of the Real Fairyland, LLC, an entertainment company dedicated to the production of excellence in programming and interactive media, tied to consumer products that inspire imagination, foster creativity, and encourage children to spread kindness and change the world. The Real Tooth Fairies focus on character building through positive role models, the 20 Lost Tooth Virtues, and Every Kindness Counts. In addition, a school kindness program involves students in a 2 week program wherein kids are heroes for kindness in their family, school, and community while supporting a global charity.
Marilyn Bollinger, president of The Real Tooth Fairies, is the author of 30 Disney books and has consulted for LeapFrog, Fisher-Price and other top children's companies. As a licensed clinical social worker, she practices family and children's therapy and is leader of parenting workshops. And of course, she's honored to be the Earth's ambassador to all things Real Fairyland, where Love is Magic and Every Kindness Counts!
For more information on the Real Tooth Fairies, please contact: Rachel Frankel at 910.509.0565.
Learn about the Real Tooth Fairies at http://www.TheRealToothFairies.com/guest-services/about-us. Girls can Get Matched to their Tooth Fairy at http://www.TheRealToothFairies.com/registration.
Girls can ask their tooth fairy to fly personalized tooth fairy letters to their pillow at http://www.TheRealToothFairies.com/ask-magic-letters. Shop for treasures at The Real Tooth Fairies Magic Street Shops at https://shop.therealtoothfairies.com/
For Tooth Fairy Costumes Made in the USA, go to https://shop.therealtoothfairies.com/index.php?p=catalog&parent=61&pg=1
https://shop.therealtoothfairies.coFor a Guide & Gift for parents to get a free Personalized Tooth Fairy Letter go to http://www.ToothFairyForParents.com. To spread Kindness in your family today go to http://www.therealtoothfairies.com/kindness.