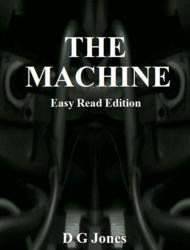 The violent struggle against THE MACHINE goes on...
(PRWEB UK) 26 October 2012
The struggle against the abomination goes on...
D G Jones, the flayed prince himself, has finally announced there is to be a sequel to the best selling ebook political thriller THE MACHINE. The dark anti capitalist novel is to be the centre piece of what he has described as the black trinity.
"Persecution is the first part of the trinity, and although not a prequel, it is the first time it (THE MACHINE) appeared, then of course THE MACHINE itself. A third and final part is in development and will be the book that finally reveals all the secrets hidden within the novels."
D G Jones (interview 12/10/12)
Famous for its violent anti-capitalist stance, THE MACHINE was released in two formats, the Industrial and easy read versions.
"Many people struggled with the original text because of its lack of punctuation and lack of grammar, so I released the easy read addition earlier this year to make the novel accessible to everyone. The third novel will be written in a more conventional form." D G Jones.
Praise for THE MACHINE:
"Mr Jones tells his stories with the same sort of ease and flow demonstrated by professional dancers. This is the sort of book that makes you think - several aspects of 7's life and thoughts made me look at myself and question my approach to life." Seanus 2/16/12
"It is dark and Orwellian and a great parable for our times. Blue 7, lives a hard drudgery-filled existence servicing The Machine. No one knows what it does, in fact the workers are kept ignorant of pretty much everything and there is an insane killer on the loose and he has Blue 7 in his sights. Who is a bigger threat to Blue 7, the killer or the Greys who police The Machine? The gritty atmosphere of this book will stay with me for a long time." Purplejuice 15/06/12