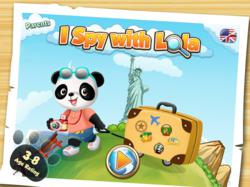 Sacramento, CA (PRWEB) October 25, 2012
From the developers who brought you Lola's Alphabet Train and Lola's Math Train, BeiZ, Ltd. announces the release of their newest app, I Spy with Lola, an adventure packed hidden clue game now available on the iPhone, iPod touch and iPad.
I Spy with Lola invites children ages 3-8 years old to join Lola Panda on an adventure around the world as they travel to various destinations to complete exciting tasks along the way. The app includes fun challenges for children of all ages as they practice object and word association, vocabulary, and shape recognition. With over 100 hidden objects to find throughout the locations players will enjoy the interactive features and creative artwork.
"While performing a comprehensive analysis of the app with dozens of children, it was very rewarding to see them engaged and excited to learn with the tool we created. We can't wait to share it with kids around the world", explains Mika Heikinheimo, CEO of BeiZ.
I Spy with Lola includes three difficulty levels and exciting new locations waiting to be unlocked as achievements are met. BeiZ, Ltd. has created a game that provides endless entertainment while offering parents a tool to help encourage children to learn. The game combines excellent graphics, clearly spoken instructions and beautifully composed music to create this movie-quality experience!
I Spy with Lola is available from the App Store starting at $.99 for the iPhone and iPod touch and $1.99 for the iPad.
Download iPhone App: https://itunes.apple.com/us/app/i-spy-with-lola-panda/id567425439?mt=8
Download iPad App: https://itunes.apple.com/us/app/i-spy-with-lola-panda-hd/id567707551?mt=8
Website: http://www.lolapanda.com/games/game1.html
Trailer: http://youtu.be/lBBJEH0UKY8
Press Kit: https://www.dropbox.com/sh/1ur3dbojwmtr9fz/MB_MOtsFWo