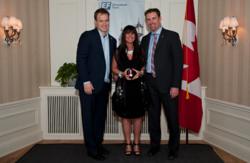 I am humbled to have been selected as a recipient. It was definitely an honour that I was not expecting.
Toronto, Ontario (PRWEB) October 26, 2012
Thirty educators who use an innovative approach to global education were honoured on October 13, 2012 during EF Educational Tours' Queen Elizabeth II Diamond Jubilee Medal presentation ceremony.
Teachers and school administrators from across Canada, representing every province, attended the event at the Estates of Sunnybrook in Toronto. They received their medals from Co-founder of Free the Children and Me to We, Marc Kielburger, and EF Educational Tours' president David Conklin.
"EF Educational Tours is proud to have been selected by the Governor General's Office as a partner organization to the Diamond Jubilee nomination process", said Conklin. "This opportunity allows EF to recognize these innovative educators, who demonstrate a passion for education and a goal of expanding the classroom beyond its four walls. This is a proud moment in EF Canada's history."
As the largest student educational travel organization in Canada, EF works with teachers across the country and around the world to incorporate travel into their lessons. With a mission to break down barriers of language, culture, and geography, EF helps educators enrich what they teach in the classroom and provides students with the opportunity to "learn it by living it."
For many of the recipients, this award is a legacy that they are very proud of and will not soon forget. "I am humbled to have been nominated and selected as a recipient," said Fonda Loft, a teacher at White Oaks Secondary School in Oakville, Ontario. "It was definitely an honour that I was not expecting."
These thirty recipients are being recognized for the significant contributions they make within their Canadian communities and their commitment to inspiring their students to become global citizens. They are part of a select group of Canadians who will be receiving this medal during the year of celebration. The Diamond Jubilee Medal was created to mark the 2012 celebrations of the 60th anniversary of Her Majesty Queen Elizabeth II's accession to the Throne.
Keynote speaker Marc Kielburger, a Diamond Jubilee recipient himself, inspired the attendees with stories about his family, Mother Teresa, Oprah Winfrey, and his thoughts on the event. "This evening is like a minga, which is a Quichua term, one of the languages in Ecuador, meaning the coming together of people to work for the benefit of all. The benefit of all in this case happens to be students, and the community, and your ability to impact so many people. It might be your direct community, or it might be the global community, but tonight is a minga in the sense of meaning and legacy."
With so many passionate and committed individuals in one place it was easy to see how travel changes lives.
About EF
EF Educational Tours is a division of EF Education First, the world leader in international education for more than 45 years. Canadian students and teachers travel with EF to visit historical and cultural sites in Canada and around the world, becoming global citizens, returning home with a new perspective and making them better prepared to contribute to Canada's future.