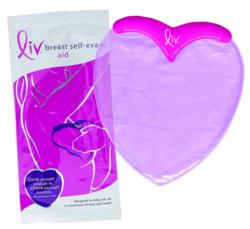 Miami, FL (PRWEB) October 29, 2012
Process Pink Payments™ and Livgeiger™ are pleased to announce that through their partnership, the LIV breast self-examination aid is now being provided at no cost to all new Process Pink merchants as part of their new account welcome kit.
The LIV is a heart-shaped pad that molds to the skin and provides a smooth surface for the fingers to easily glide over the breast tissue. Process Pink Payments (a Unified Payments™ brand), was founded with the goal of dedicating a portion of every credit card transaction fee to the National Breast Cancer Foundation® (NBCF). Process Pink Payments is proud of their Platinum Partner status with the NBCF, along with donations that exceed a quarter-million dollars each year to fund mammograms and educational programs.
"Because the best defense against breast cancer is early detection, Process Pink welcomes every new merchant with a special gift – the LIV breast self-exam aid, a simple device you can use every month to perform a correct breast self-exam" said award-winning singer, songwriter and actress Olivia Newton-John. The LIV gives women a valuable tool that increases their odds of finding tissue changes early and reporting them to their healthcare professional. When detected in the early (localized) stage, the five year survival rate is 98%.
"We are so proud to partner with Process Pink to help fulfill Olivia Newton-John's dream, and our mission, that all women will have a LIV and love themselves enough to take charge of their own breast health," said Livgeiger's Managing Director Kathy Ullmann. Adding, "Like Olivia, early detection saved my life. Education and self-exams could change the battle against breast cancer. Early detection is the key." Many women have found breast lumps with the help of the LIV; mostly normal lumps. However, some women noticed unusual changes when using the LIV and for those women the LIV was the first step to their diagnosis. The LIV helps women become aware of what is normal for them. This increased awareness in breast health is what the LIV is designed to provide. Increased awareness drives early detection and early detection saves lives. This is particularly important for women under 40 who typically don't get mammograms unless they are considered high risk or have family history.
"The creation of the Process Pink brand was rooted in our fundamental belief that merchants would enthusiastically support our efforts to raise money every day on an ongoing basis for the National Breast Cancer Foundation" said Anthony Holder, Process Pink Payments President. Adding, "We were overjoyed to just be recognized by Inc. magazine during Breast Cancer Awareness Month when they selected our corporate entity, Unified Payments, as the #1 Fastest Growing Private Company in America. This confirms that doing the right thing is the right thing to do when pursuing business growth opportunities."
Process Pink is the fastest growing division within Unified Payments and also is number one in sales revenue. Additional information is available on the Process Pink website including a video featuring Olivia Newton-John sharing her insights as a breast cancer survivor. The video details Process Pink's support of the National Breast Cancer Foundation and the foundation's mission to save lives through early detection and to provide mammograms for those in need. Learn more at: http://www.processpink.com.
About Unified Payments:
Unified Payments, LLC ("Unified Payments"), has been recognized by Inc. Magazine as the #1 fastest growing private company in America for 2012 and is a leading socially responsible provider of payment processing services to small, medium, and large-size merchants. Unified Payments provides comprehensive turnkey, payment-processing solutions to merchants across the United States. By utilizing the products and services offered by Unified Payments, merchants are able to accept traditional card present and non-card present payments, as well as other forms of cashless payments such as prepaid cards, gift cards and other forms of non-cash payments.
About Livgeiger:
The LIV® is a Class II FDA-cleared medical device, endorsed and co-developed by Olivia Newton-John, to assist women and increase the effectiveness of breast self-exams. Often, a lump that is detected using the LIV cannot be felt with a bare hand. The LIV assists by reducing the friction between the fingers and the breast tissue, allowing the fingers to glide smoothly over the breast area via the liquid inside. Livgeiger, LLC is a business unit of Geiger and a distributor of the LIV for the United States and Canada. The mission of Livgeiger is to assist Olivia Newton-John with her vision "that all women will have a LIV and love themselves enough to take charge of their own breast health." Headquartered in Lewiston, Maine, Geiger is the largest privately held promotional products distributor in the nation. Geiger operates 15 divisional offices across the US and is affiliated with over 550 independent sales representatives. The company is internationally renowned manufacturer of calendars and planners, and the sole publisher of the world-famous Farmers' Almanac™.