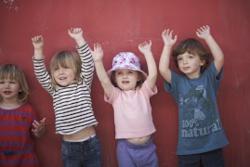 We are the go-to place where people can find all the answers about quality child care in the Los Angeles Westside and South Bay areas."-Patti Oblath, Executive Director
Santa Monica, Calif. (PRWEB) October 30, 2012
Child care and early education experts Connections For Children has expanded their South Bay service area to Lomita, Torrance, and the Palos Verdes peninsula. The non-profit organization has been providing referral services to families and professional development to care providers for nearly forty years.
Patti Oblath is the Executive Director at Connections For Children. "We are delighted to build new relationships with the 200 plus child care providers in the South Bay area," said Oblath, "While we have worked with some of these providers in the past, this affords us new opportunities to offer our extensive training and workshops to the community."
Connections For Children will mark their South Bay expansion with a series of three workshops for
care providers. The Thursday workshops will be offered in Torrance on Nov. 8, Nov. 15, and Nov. 29 from 7:00 – 9:00 p.m.
The Nov. 8 workshop will be held at 18411 Crenshaw Blvd. The Nov.15 and Nov. 29 workshops will convene at El Camino College, in Art B- Room 313 at 16007 Crenshaw Blvd. In sequence, workshop themes will be early education curriculum development, diversity in the child care setting, and incorporating healthy movement for children in sites of limited space and budget.
Under the expansion, Connections For Children staff has provided 181 more South Bay families with child care options. "We are thrilled to be able to help more South Bay families achieve self sufficiency by offering them the financial support to access child care services," Oblath said.
Since 1974,Connections For Children has provided referral services to families and professional development to child care providers, helping 5,000 Westside and South Bay families on average each year. The agency's mission is to prepare children for success with high quality child care and early education. For more information, visit http://www.connectionsforchildren.org. To learn about the South Bay training workshops, please contact Natalie Lawson at (323) 452-3325 Ext. 225 or Nataliel(at)cfc-ca(dot)org.