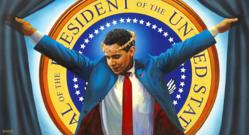 Boston, MA (PRWEB) October 25, 2012
Almost four years after public outrage forced him to cancel his first attempt to exhibit his provocative painting of President Obama entitled "The Truth" in NYC, artist Michael D'Antuono will finally get a second chance to publicly display the controversial piece. It will be featured in the exhibit "Artists On The Stump - The Road To The White House 2012" at Boston's BHCC Art Gallery running October 29th-through December 15th.
The painting enigmatically depicts President Barack Obama in the pose of Jesus Christ on the cross, complete with crown of thorns while his outstretched hands appear to pull back the dark veils covering the Presidential Seal. The art went viral, becoming the most viewed photo on Yahoo and was discussed on Glenn Beck's TV show and blogs around the world. Yet D'Antuono was unable to safely offer a public showing of the piece due to the religious right's extreme outrage at the artist's use of religious symbolism. Interpreting the political piece as blasphemy, they planned protests and wrote thousands of letters demanding the show be canceled. D'Antuono acquiesced to the wishes of family and friends who worried about his safety and cancelled the show. Having since regretted relinquishing his first amendment rights, the artist eagerly welcomes this opportunity to finaly exhibit his painting.
D'Antuono is contributing five other paintings to the group show that encompass different aspects of the condition of our democracy in this election season. One of them, "Trick Or Treat?" is a befittingly Halloween themed piece that encapsulates the stark contrast in the presidential candidates' agendas. The show runs October 29th-through December 15th. Opening reception: Wednesday, October 31, 6:00-8:00pm at the BHCC ART GALLERY, 250 New Rutherford Avenue, Boston Massachusetts 617-780-8266
To see more of the artist's work visit: http://www.ArtandResponse.com.
Press Inquiries contact 845-440-6634 or info(at)ArtandResponse(dot)com