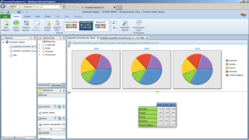 We looked at a number of tools and really liked the overall capabilities Pyramid Analytics had to offer
Amsterdam, Netherlands (PRWEB) October 30, 2012
To support the efficiency and growth of Victorinox Swiss Army, Inc. (VSAI), the North American subsidiary of Victorinox AG, Pyramid Analytics has been tapped to provide "the best visibility into sales and operations activities and to use that visibility to evaluate trends and plan for the future" said Jim Anderson Senior Vice President of Operations of VSAI North America.
The North American headquarters located in Monroe, Connecticut was previously employing ProClarity to enable business users to gain insights into their operations, but needed to find a comparable solution going forward. The important characteristics of choosing a new solution included global scalability and enhanced data mining capabilities, while allowing a simple technical transition, and, most importantly, a seamless conversion for users. "What we liked about Pyramid was the improved functionality over ProClarity including report visualization and the new ways you can slice and dice data. The easy migration of queries and the look and feel being similar to ProClarity were also contributing factors to our decision," said Anderson.
Pyramid Analytics Business Intelligence (BI) Office Suite provides self-serve Analytics that allows VSAI's users to leverage the rich functionality of Microsoft SQL Analysis Services, and PowerPivot. Operating either as a standalone BI toolset, or integrated into Microsoft SharePoint 2010, Pyramid provides a complete solution for ad-hoc analysis, dashboards and reporting that is both intuitive and powerful. Designed for the market leading Microsoft BI stack – Pyramid's interface has both the familiarity and the seamless integration of Office productivity suite, while providing powerful and unique analytic capabilities. bioXL analytics allows users to slice, dice and drill into data intuitively, providing users with the best access to 'Analysis Services' functionality. bioPoint dashboards allows business users to easily build and distribute interactive dashboards, with the simplicity of creating a PowerPoint. Pyramid's BI clients are designed to handle large datasets, and can be rapidly deployed to scale up to thousands of users, delivering solutions ranging from 'self-service BI' to 'enterprise BI' and ultimately 'cloud-hosted BI.'
From supporting a variety of users in sales, marketing, accounting and operations, to dedicated data miners to consumers of static reports, "We looked at a number of tools and really liked the overall capabilities Pyramid Analytics had to offer," Anderson added.
About Pyramid Analytics
Pyramid Analytics is a leader in innovative BI applications that simplify access to information to help organizations optimize their business decisions. Pyramid Analytics delivers intuitive enterprise level Business Intelligence through a rich integrated, web-based interface with a highly scalable dashboard and analytic application for all types of business users. Using Microsoft's Office concept, the BI Office Suite is custom designed for multi-dimensional and tabular OLAP cubes in Microsoft SQL Server Analysis Services or Power Pivot.
Pyramid Analytics has a Microsoft ISV BI Gold Competency and is headquartered in the Netherlands with operational centers in Israel, the EU and the USA.
About Victorinox Swiss Army
Victorinox produces and sells unique, high-quality products worldwide which are of practical use in differing areas of life: Swiss Army Knives, Cutlery, Timepieces, Travel Gear, Fashion and Fragrances. The head office of the company is in Ibach, Schwyz, in the heart of Switzerland. This is where the founder of the company, Karl Elsener, first set up his cutler's business in 1884 and, a few years later, designed the legendary "Original Swiss Army Knife."
For more information contact:
Ashley Stewart, Pyramid Analytics
ashley(at)pyramidanalytics(dot)com
Victorinox Swiss Army Inc.
Jes Feuer jes(dot)feuer(at)swissarmy(dot)com.