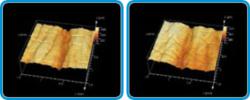 The combination of Argireline and SNAP-8 create a blend that is comparable to a prescription strength product.
New York, NY (PRWEB) October 25, 2012
Elite Serum -- a revolutionary topical anti-aging serum created by South Florida cosmeceutical company SkinPro -- is breaking beauty barriers with its proven, powerful blend of anti-aging peptides, including Argireline and SNAP-8. SkinPro first introduced its flagship eye serum in 2009 but has continued to enhance the overall performance over the last 3 years.
Elite Serum, also commonly referred to as Elite Eye Serum, was formulated by Irwin Grams, a clinically trained cosmetic pharmacist. Irwin Grams is a graduate of the University of Witwatersrand in Johannesburg, South Africa, with a concentration in Pharmaceuticals. Impressively, Irwin has over 40 years' experience in Cosmetic Chemistry. He has held many prestigious positions such as Principal of an OTC drug manufacturing company and Conductor of Chemistry at one of the world's largest cosmetic manufactures. He is considered to be one of the top innovators of Cosmetic Chemistry within the industry.
SkinPro researchers spent over 3 years researching and developing the formula that would become Elite Serum. Based on results of extensive clinical tests, they opted for the combination of Argireline and SNAP-8, both created by Lipotec.
Lipotec was founded in 1987 by Dr. Dr José María García and Dr Antonio Parente, with a core business model built around peptides and the delivery system of peptides. Two very different departments handled each of the platforms. The Cosmetic division specialized in encapsulation and delivery systems of cosmetics, while the Peptide division specialized in the synthesis and purification of peptides for pharmaceutical applications. Lipotec has adopted a mentality of a service orientated business and demonstrates that with its current distribution in 50 countries worldwide. Lipotec took the cosmetic industry by storm with the introduction of Argireline and SNAP-8.
Argireline is an anti-aging peptide that is most notable for its ability to relax the facial muscles resulting in reduced depth of facial lines, especially around the eyes, mouth and forehead. For this reason, Argireline is said to mimic the effects of Botox. Argireline popularity is on the rise so much so that it caught the attention of Dr. Oz, who devoted an entire segment to anti-aging and the effects of Argireline, on his show earlier this year. Clinical studies show that Argireline can reduce wrinkle depth by up to 30% after 30 days of use.
SNAP-8 is an elongation of the hexapeptide Argireline. Similar to Argireline, SNAP-8 is known to reduce the depth of wrinkles on the face caused by facial expressions by constricting muscle contraction. SNAP-8 can be incorporated into formulations such as emulsions, gels, serums, etc., and is safe for use on any area of the face that suffers from wrinkles.
SkinPro CTO Richard Banks stated, "We were thrilled with the final composition that Irwin Grams created. The combination of Argireline and SNAP-8 together create a blend that is comparable to a prescription strength product. Our goal is to offer consumers the best products available and Elite Serum certainly fits these credentials."
SkinPro's vision was to create a revolutionary product that would treat all of the common eye related issues with one topical treatment. They achieved this with the blend of Argireline, Haloxyl, Matrixy3000, Eyeliss, SYN-COLL and SNAP-8, along with hyaluronic acid and red and green seaweed extract. Elite Eye Serum works to reduce the appearance of wrinkles, dark circles, under eye puffiness and under eye bags.
Billionaire Warren Buffet's Berkshire Hathaway recently agreed to buy Lubrizol for nearly $10 billion. Shortly after, Lubrizol acquired Lipotec, citing the massive popularity of Elite Serum's main ingredient, Argireline. Learn more about Elite's Serum's award winning formula and view results of clinical studies on their web page.