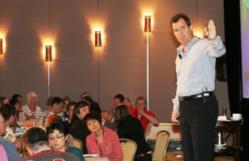 I look at the process and at how we can change things in the process to make it possible to solve real problems. This is why the systems, methods, and processes I create benefit not only me, but also a lot of people.
Sydney, Australia (PRWEB) October 25, 2012
The new hit song, Gangnam Style has instantly captured the attention and interest of people all around the world in a short time. Its video on YouTube has reached more than 500 million views within months.
This infectious song has become part of every country's pop culture because of the singer's innovative style, unlimited creativity, and new way of thinking; just like Australian property innovator, Rick Otton.
"I'm always looking for better ways to do things. And when I figure out a new way of doing things, I don't look at the surface. I look at the process and at how we can change things in the process to make it possible to solve real problems. This is why the systems, methods, and processes I create benefit not only me, but also a lot of people," Otton explained.
Gangnam Style: A New Way to Solve Real Estate Problems
According to analysts, among the many reasons why this hit song by South Korean singer Psy is now considered a worldwide sensation is the singer's passion for introducing a new way of thinking and for changing the standards in the pop culture.
And this is exactly what Rick Otton has been teaching since 2001. "The real estate industry continuously develops throughout the years. We often need to change our way of thinking and create new standards to develop with the property market. We shouldn't limit ourselves to yesterday's processes as these couldn't solve today's problems. We need new, creative, and innovative strategies to solve today's real estate problems," Mr. Otton said.
Creative and Innovative Property Investment Strategies
Mr. Otton has developed creative real estate strategies at the time he started in property investing. These strategies offer a new way to deal houses, focusing on solving people's real estate and funding problems rather than simply buying and selling houses rapidly. These are the same strategies Otton used to create a portfolio of more than 76 properties in 12 months.
Rick Otton's creative property investment strategies have helped transform the lives of thousands of individuals, from those who have been trying to sell their negatively geared homes for years and first homebuyers who could not get into the market because they cannot qualify for a loan to those who are looking to change their lifestyle and live in total freedom.
G. Thomas, one of Otton's students, is now living a more satisfied lifestyle due to the creative real estate strategies. "I've been around real estate for a fair while ass a developer. Rick has taught me a lot more about negotiating and how to fix problems. Now I'm able to go out and fix other people's problems, which has also created a great income for myself," Thomas, former developer from New South Wales, said.
Rick Otton is conducting a series of one-day live training events throughout the country to teach and discuss his innovative real estate investment strategies. He will spend 8 hours showing people how to use these strategies to solve other people's problems, Gangnam style.
For more details on these training events, visit http://www.howtobuyahouseforadollar.com/register and find out how you can reserve for a free seat on the last 2 events for 2012.
About Rick Otton
For more than 20 years, Rick Otton has been identifying undervalued assets in the real estate market, snatching them up and selling them to build wealth. Otton is the founder and CEO of We Buy Houses, an innovative property firm that has been successfully employing his strategies in the U.S., U.K., Australia and New Zealand.
Otton formulated his strategy in the early 90s and within his first year of real estate investing acquired a portfolio of more than 75 properties. Since then, Otton has made millions in the real estate market, generating huge profits with little risk to his own capital.
Today, Otton is teaching Aussies how to enjoy the same success he has had, buying and selling residential real estate without the debt, risk and reliance on bankers that plague many conventional real estate investors.
Otton has been featured on a variety of Australian TV shows, including an ABC documentary, Today Tonight, A Current Affair and Insight. In 2007, Otton was featured on Channel 9's Hot Property, and gave away a home.
In addition to his television appearances, Otton has also been profiled in publications such as Australian Property Investor, Lifestyle Trader and Your Property Network, among others. You can learn more about Otton and his innovative investment strategies by visiting http://www.rickotton.com.