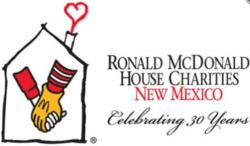 Santa Fe, NM (PRWEB) October 24, 2012
When newborn Jesse Pride was rushed to University of New Mexico Hospital in Albuquerque from his home in Aztec, New Mexico, back in 1982, his parents had no idea how they would manage the expense and ongoing travel that would be involved in order to be at Jesse's side during his treatment. Fortunately, Jesse's family was one of the first to be able to stay in the then-new Ronald McDonald House located just north of the UNM campus—making long hours of travel and expensive stays in local motels something they wouldn't have to face during that stressful, worry-filled time. An article about the October 30, 2012 30th anniversary celebration of the New Mexico Ronald McDonald House is on on-line visitor guide SantaFe.com.
Now 30, Jesse recalls, "My family being able to stay at the Ronald McDonald House was a major thing. Otherwise, my family and I might not have been able to travel to Albuquerque to get the treatment I needed."
Next week, thirty years later, Jesse and his family will return to New Mexico's sole Ronald McDonald House to celebrate its 30th anniversary providing a true home away from home for New Mexico families needing to be near their children during times of medical crisis. He won't be alone; many previous guests of the "House" have been invited to help celebrate the milestone event at the facility on October 30, along with hundreds of volunteers and supporters who have kept the House running smoothly and compassionately over the years.
Public Invited to Day of Celebration
In keeping with its vision of "strengthening families and communities one child at a time," the Albuquerque facility, located at 1011 Yale NE, will also welcome the public to its celebration on the 30th, which will include tours of the expanded facility.
The House will be open from 4 -6 p.m.. RSVPs are requested by emailing contactus (at) rmhc-nm (dot) org by Monday, October 29th.
Visitors are encouraged to help the House embark on its next 30 years by bringing along an item to donate from the organization's "Wish List" (see http://www.rmhc-nm.org/wish-lists).
About Ronald McDonald House
What We Do
Our Mission
Ronald McDonald House Charities of NM provides comfort, care and a home away from home
for families whose children are in medical treatment.
Vision
Strengthening families and community one child at a time.
Values
Compassion – Provides everyone with heartfelt comfort, care and kindness
Enthusiasm – Inspires joy and passion in others
Respect – Embrace differences with a caring attitude
Commitment – Dedication, accountability and pride in everything we do
Integrity – Our actions are guided by honest and ethical behaviors
Media Inquiries can be submitted to Melissa Gomez, Marketing & Special Events Manager, at 505-515-3037 or by email at mgomez (at) rmhc-nm (dot) org.
About SantaFe.com:
SantaFe.com provides locals and visitors to Santa Fe alike the most current interactive platform for events, music, arts, business, dining and lifestyle. SantaFe.com is a division of Hutton Broadcasting, located at 2502 C. Camino Entrada, Santa Fe, NM 87507
Contact Information:
Scott Hutton
SantaFe.com / Hutton Broadcasting
http://www.santafe.com
(505) 471-1067 (Media inquiries only, please)