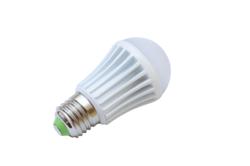 (PRWEB) October 30, 2012
Under the influence of national policy, Zhongtian Lighting, a top LED bulb manufacturer in China, introduced the 2W LED bulbs to replace the traditional bulbs. It will build a better society.
LED bulb light of Zhongtian Lighting has good quality. Firstly, it adopts single high power LED which is self-packaged to be the light source. Light source uses the single module design of the integration of multi-chips and the imported high luminance semiconductor chips which have the features of high heat conductivity, low luminous decay, pure color of light and no ghosting etc. Besides, by using the solid light source without glass, mercury and other vulnerable parts and adopting the common E27 interface, it gives rise to a longer lifespan of LED bulb. In addition, LED bulb light can be installed to the 86-265 V AC interface and used conveniently and safely.
LED bulb light has a very obvious energy-saving function, a 5W LED bulb's brightness is equivalent to that of a 15W incandescent and it saves energy as much as 60%. The unique cooling design enables LED bulb lifespan to reach as much as 50,000 hours, which helps the entire lamps avoid replacing their light source and earn very low maintenance costs. It has a nice design and a lightweight, looking special and delivering 220lm. Without glare and stroboscopic, LED bulb light eliminates the undesirable glare, visual fatigue and visual interference caused by traditional lamps. The color and color temperature of LED light source can be selected according to the requirements of customers, which is beneficial to the different choices for different occasions. It is widely used in home lighting, commercial lighting,, windows and gallery lighting, hotel and other places.
Zhongtian Lighting also offers other indoor and outdoor lamps, all products with 3 year warranty. For more information, please visit http://www.ledlampshopping.com/category-19-b0.html .