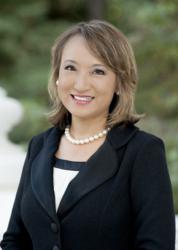 These girls represent a generation that can continue to advocate for women's issues and successfully achieve the goals that will make for a stronger and more just society --Assemblywoman Mary Hayashi
Sacramento, CA (PRWEB) October 25, 2012
Assemblywoman Mary Hayashi (D-Hayward) applauded the efforts of the Silicon Valley Leadership Group to empower young girls through their Women and Girls Leadership Summit today at LeyVa Middle School in San Jose.
"I want to congratulate the Silicon Valley Leadership Group on this important effort to empower and inspire young girls to become leaders and explore exciting careers in the public and private sector," stated Assemblywoman Mary Hayashi. "We have come a long way in women's rights, but much still needs to be done, including ensuring equal pay for women. These girls represent a generation that can continue to advocate for these issues and successfully achieve the goals that will make for a stronger and more just society."
The Silicon Valley Leadership Group held the Women and Girls Leadership Summit today at LeyVa Middle School, as a way to give girls from low-income communities access to mentors and opportunities in business and government. The Summit hosted panel conversations, class room visits and a luncheon.
The Summit featured a diverse array of women leaders, including Santa Clara County Superior Court Judge Katherine Lucero, San Jose City Councilmember Rose Herrera, Dell Vice President of Global Communications Kelly McGinnis, Joanne Pasternack, Director of Community Relations for the San Francisco 49ers, and Captain Mary Gutierrez of the San Jose Fire Department.
The Silicon Valley Leadership Group was founded in 1978 by David Packard. The Group includes more than 375 Silicon Valley employers, who work together on issues, programs and campaigns that affect the economic health and quality of life in Silicon Valley. Group members collectively provide nearly one of every three private sector jobs in Silicon Valley and contribute more than $3 trillion to the worldwide economy.
Assemblywoman Mary Hayashi serves the 18th Assembly District, which includes San Leandro, Hayward, Dublin, most of Castro Valley and Pleasanton, and a portion of Oakland, as well as the unincorporated areas of Ashland, Cherryland, San Lorenzo and Sunol.
# # #