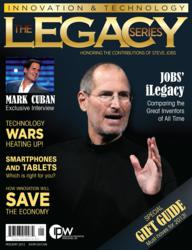 "Your business has to be flexible and adaptable. You need to constantly be in solution mode when these crises come up. If you use the old model, you'll be the one whose ostrich feathers are being blown off your butt while your head is in the sand,"
Denver, Colorado (PRWEB) October 25, 2012
FOR IMMEDIATE RELEASE
THE LEGACY SERIES CELEBRATES TECHNOLOGY, INNOVATION
AND VISIONARY LEADERSHIP FOR 21st CENTURY BUSINESS
http://www.legacyseriesmagazine.com
Many of the most dynamic and innovative business leaders in America share their thoughts about the late Steve Jobs, as well as their insights on technology, innovation and visionary leadership in The Legacy Series: Innovation and Technology. The publication will be available on newsstands worldwide early December, combined with online, tablet and mobile versions.
"We have tapped into some of the brightest minds, from a wide swath of innovative organizations to produce a coffee table quality publication that honors all things innovation and technology. Our aim was to inspire and inform, and I think we have knocked it out of the park," said Innovative Properties Worldwide CEO Charles Warner. http://www.goipw.com
More than 25 business leaders are being interviewed for the publication, among them CEO Space International founder Berny Dohrmann, who has created the largest member-based business exchange and entrepreneurial training network in the world, with a focus on training, education, innovation and development of stronger business tools. Dohrmann's emphasis on cooperative capitalism and its role in future business exemplifies the editorial approach of The Legacy Series: Celebrating Innovations and Technology.
"I believe the next 25 years will be defined by two criteria," Dohrmann said. First, we're in an Age of Association. If you change your associations and upgrade them, you will become more affluent and more connected with the larger potential of your business and industry. This is where cooperative capitalism, collaboration and networking come in.
"Second, we're in an Age of Superchange and Supercrisis. Both are coming faster than at any other time in history. Your business has to be flexible and adaptable. You need to constantly be in solution mode when these crises come up. If you use the old model, you'll be the one whose ostrich feathers are being blown off your butt while your head is in the sand," Dohrmann concluded.
The interviews cover all sectors of technology, communications, open innovation and other pressing issues in redefining the marketplace. They weave in and out of a full slate of more than 15 feature stories ranging from America's top women in technology to new approaches in education and product design. Several interviewees also openly salute the vision and approach of Steve Jobs, whose emphasis on streamlined design and customer satisfaction made Apple the world's most cash-rich company.
"Steve was unrelentingly pursuing beauty, elegance and the wow factor, while constantly rejecting mediocrity, too fast acceptance of limitations and adapting to other's second-rate technologies," said Dr. Gustavo Rabin, CEO of The Skyline Group and author of Becoming A Great Leader. Rabin, also featured in The Legacy Series: Innovation and Technology, served as an executive consultant to Apple during Jobs' reign as CEO.
The Legacy Series: Innovation and Technology marketing partners, advertisers and readers also hear from those creating new possibilities with the latest technology. Among them are Craig Perkins of the Genshi Media Group, who won the 2012 iPhone Film Fest with his short subject, The Haunting at Danford Cabin — filmed entirely with the iPhone 4S. In his interview, Perkins uses filmmaking to discuss the change in the way people can view creative and business possibilities with new technology.
"Many people, myself included initially, would have said that the iPhone can't be used for serious filmmaking; it's just for shooting family parties for YouTube," Perkins said. "Yet, here I am with my third iPhone film screening at several film festivals (including traditional "film" festivals!). So it really does put filmmaking into the hands of anyone that wants to film digitally.
"So the fact that I can even make these movies and then immediately have people viewing and commenting on them and being able to know what I did wrong or what I could do differently is leaps and bounds ahead of the technology that previous generations of indie filmmakers had," he added.
Advertising space and marketing partnerships with The Legacy Series: Innovation and Technology is being finalized through November 10. https://www.facebook.com/legacystevejobs