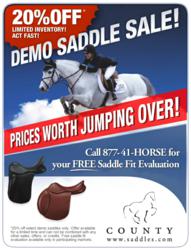 Call 1-877-41-HORSE.
Lisbon, MD (PRWEB) October 26, 2012
Leading saddle-maker County Saddlery today announced its release of a new line of promotional products for equestrian enthusiasts in time for the holiday shopping season, with online retailer Zazzle.com selected to house the new County online store. The County store on Zazzle.com, which features gifts including T-shirts, messenger bags, caps and mugs, and cool things for kids and toddlers is currently available at Zazzles.
Featured County promotional items include clothing such as County logo T-shirts, sweatshirts, polo shirts and caps, as well as accessories including messenger bags and tote bags, and home and pet items including pillows, pitchers, mugs, stationery and dog shirts. County also offers baby and children's clothing, note cards and stamps.
In addition to its Zazzle promotional product offerings, County Saddlery continues to offer a full range of innovative horse products on its online store at https://shop.countysaddlery.com/, featuring saddle pads, girths and leathers, as well – the new County Show Scrim Sheet and County Coolmax Coolers. The complete line of County custom-made saddles is featured on the company's website at http://www.saddles.com.
County's traditional handcrafted methods take longer and require a higher degree of craftsmanship than competitors' using assembly line techniques, but once a rider sits in a County, the differenece is clearly worth it. County's commitment to quality and detail is reflected in every saddle it makes.
Resisting the trend toward cheaper production methods that use foam-rubber panels and plastic trees, County saddles are handmade on laminated beech-wood trees, covered in the world's finest leather, and flocked with pure wool to maximize horses' comfort and fit. County is one of the few saddlery companies in the world to make their own trees, and sets the industry standard in design and innovation.
For more information, readers should visit County's website at http://www.countysaddlery.com or call 1-877-41-HORSE.