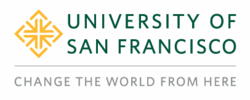 San Francisco, CA (PRWEB) October 25, 2012
The University of San Francisco's Master of Arts in Teaching English to Speakers of Other Languages (MA TESOL) is now being offered as an online program, in addition to the face-to-face program, which has been offered since 1975. Adapted from its campus counterpart, this new online MA TESOL program is now accepting applications for the Spring 2013 semester.
The online MA TESOL program combines a comprehensive coverage of linguistic theory with practical application, providing students with the knowledge and strategies they need to be highly effective teachers for students of other languages in the US and abroad. The concentration in Digital Media and Learning provides students with the skills to integrate technology-enhanced learning into their instructional practice and to make real world connections for the students they teach.
Designed as a flexible online educational solution for working professionals, the MA TESOL program provides students with a solid theoretical understanding of skills that can be put into practice immediately. Students examine and improve their own teaching practice as a result of the interactions with peers and faculty throughout the program.
The MA TESOL curriculum consists of 11 courses including a research project taken in the final semester. The 33 credit hour program can be completed in five semesters and features convenient start times during the fall, spring and summer terms.
For more information about the curriculum, the program requirements or the University of San Francisco's online MA TESOL program go to http://www.usfca.edu/soe/online/tesol/ or contact the Office of Online Education at 1-415-422-4900.
About the University of San Francisco
The University of San Francisco is located in the heart of one of the world's most innovative and diverse cities and is home to a vibrant academic community of students and faculty who achieve excellence in their fields. Its diverse student body enjoys direct access to faculty, small classes, and outstanding opportunities in the city itself. USF is San Francisco's first university, and its Jesuit Catholic mission helps ignite a student's passion for social justice and a desire to "Change the World from Here." For more information, please visit http://www.usfca.edu.
About the USF School of Education
The University of San Francisco is accredited by the Western Association of School and Colleges (WASC). This year the School of Education celebrates 40 years of changing the world through scholarship and service. Founded in 1972, the School of Education has since offered master's, doctoral, and credential programs for working professionals.
School of Education programs link instruction, research, and service in a manner that reflects the intellectual, ethical, and service ideals of a Jesuit institution. The School of Education prepares its students to assume leadership roles in public, private, and independent schools; colleges and universities; human service and government agencies; and corporations. By seeking to create strong relationships among the teaching, service, and research roles of faculty and students, the School of Education complements its academic programs with outreach service to the Bay Area community and beyond. For more information, please visit http://www.usfca.edu/soe