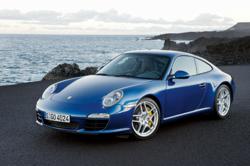 Our customers can't wait to get behind the wheel of one of our Jaguar XJLs or a Lamborghini Murcielago Spyder and set off to thoroughly enjoy their Orlando get-away.
Orlando, FL (PRWEB) October 25, 2012
The 7th Annual Festivals of Speed at the Ritz-Carlton Orlando, scheduled for November 30-December 2, will be staged inside an aircraft hangar and filled with some of the world's most exotic custom motorcycles, high performance boats, contemporary aircraft and, of course, world-class automobiles. Planning ahead in the spirit of the event, guests who will be attending are already reserving their own world-class supercars to drive while in Orlando, and to arrive at the festival in high style, from Prestige Luxury Car Rentals.
This year's festival is presented by BB&T Wealth. Staged in the magnificently appointed aircraft hangar for extra jaw-drop, guests will experience some of the finest luxury transportation and lifestyle products on earth. The highly anticipated event will benefit the Arnold Palmer Hospital for Children, a 158-bed medical center in Central Florida.
For those guests who attend every year, the festival is more than a display of world-class exotic transportation. Many travelers view it as a weekend retreat, and want to experience all the luxury for themselves from the moment they arrive at the Orlando International Airport, to the moment they leave. The first thing they do upon arrival is collect the Lamborghini, Ferrari, or Porsche that will make the weekend that much more indulgent.
The pleasure of attending a showcase of world-class vehicles, knowing your own perfect ride awaits you just outside, is the perfect bit of self-indulgence necessary for fine car lovers people who attend this show. Vintage Italian coupes stand in quaint contrast to the contemporary air and water crafts on display, in a setting of gourmet food stations, fine art, live jazz, open bar (top shelf) and a silent auction of exclusive items, the sale of which will benefit the Children's Hospital.
"This event gets bigger and more spectacular ever year," says Xylina Roman, Prestige Business Development Manager. "And every year, our customers can't wait to get behind the wheel of one of our Jaguar XJLs or a Lamborghini Murcielago Spyders and set off to thoroughly enjoy their Orlando get-away."
Of course, for the family-minded, there's always the option of a Hummer H2, a Cadillac SRX, or a Land Rover Range to make sure everyone gets the luxury vehicle they want for the weekend.
Scheduled for Orlando's mild early winder weekends, the Festivals of Speed will showcase a series of activities, all catering to the lovers of fine automotive and transportation engineering. With the event almost a month away, Roman says there's still time to call and reserve one of Prestige's spectacular exotic luxury and sports cars for the weekend, or the week. From a Maserati to a Rolls Royce or Bentley, there is no reason for any festival-goer to miss out on arriving in enviable style.
Tickets for the Festivals of Speed Jet Port Reception, Wine Connoisseurs' Dinner and Sunday main event VIP pavilion can be purchased in advance at the Festivals of Speed Website, or by calling 352-385-9450. Main event general admission tickets, are available both online or onsite at the Ritz-Carlton Orlando Grande Lakes.
Prestige staff members are available from 8 am to 8 pm daily at the Orlando showroom. For more information about Prestige's fleet of exotic luxury and sports cars, visit the Prestige Luxury Car Rentals website, follow the Prestige Facebook Page, or call 305.513.9711 (or toll free 1.888.513.9711).
About Prestige Luxury Car Rentals:
Since 2004, Prestige Luxury Car Rentals has been providing exotic luxury vehicles to customers seeking the ultimate car rental experience. Prestige's professional staff all share a genuine passion for the world's finest automobiles, and that passion translates to superior customer service with every rental. Making sure customers have fun and relish their dream car adventure is top priority.
In addition to its Miami base, Prestige Luxury Car Rentals has expanded its showroom locations to Orlando and Atlanta. The Orlando location services Northern and Central Florida, and the Atlanta branch services North Carolina, South Carolina, Tennessee and (with some limitations) New Orleans. All three locations offer a fleet of exotic luxury and sports cars including Aston Martin, Audi, Bentley, BMW, Cadillac, Corvette, Ferrari, Hummer, Jaguar, Lamborghini, Land Rover, Maserati, Mercedes Benz, Mini Cooper, Porsche and Rolls Royce.