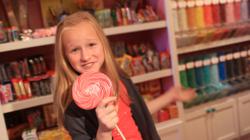 Reagan's video and story is spreading like wildfire. She has been interviewed and featured on ABC, CBS and countless other publications
(PRWEB) October 25, 2012
Fresh from PMWLive Studios our newest and brightest starlet is rising from the ash of a childhood battle with a rare blood disorder and into the throws of sudden fame. With special thanks to Patrice Wilson the mastermind behind Rebecca Black's 200-million-views sensation we all so love- or some love to hate, "Friday", we bring you ten year old bay Area artist Reagan Claire Smith. Reagan's debut single and current YouTube hit "I Wanna Know" has had a whopping 774,000 views and counting, and in only ONE week!
"I checked YouTube before I went into a meeting with our publicist. When I was in the elevator leaving the meeting, my assistant sent me a text to look at Reagan's video. For a second I thought she was playing a joke on me. In that short meeting it had gone from about 380,000 views to over 700,000!"
-Richard Brown PMWLive A&R on his reaction to Reagan's growing following.
Reagan's video and story is spreading like wildfire. She has been interviewed and featured on ABC, CBS and countless other publications. Even her local newspaper the San Francisco Chronicle is running her story. Unfortunately, with all that press, there has been an oversell of speculation as to just how or why exactly this valiant young girl has become so popular. Despite, what opportunistic naysayers may claim, Reagan's true fans recognize it is not just sympathy for her near life-threatening illness, but her inspiring determined spirit that attracts the masses.
Patrice Wilson, our owner and founder of PMWLive and producer of the brand new single "I Wanna Know", defended Ms. Smith in a statement:
"Regardless of what people are saying these are not pity views. I am proud of Reagan. If you were in the studio while I was producing "I wanna know" and you could have seen how quickly she picked up on the harmonies, you would know she's not just a girl who's struggled with this disease, she's very talented. How many other ten year old's have the courage to put themselves out there for the world to see? Health should not be the main focus here. It's about Reagan's dream and the music."
As always, we stand behind our artists. From everyone here at PMWLive we give the utmost support to Reagan and are honored to have worked and to continue to work with her. Just in the time it's taken me to write this, "I Wanna Know" has climbed almost 15,000 views! Oh, not to mention, all the proceeds of Reagan's online and iTunes sales are being donated to charity. Now, how can you hate on that?
Join the conversation and watch Reagan Smith's "I Wanna Know" video here!: http://youtu.be/NgC3sxcwR68
YouTube - Videos from this email