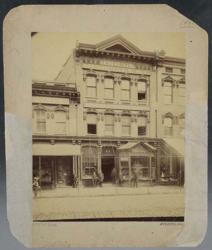 Fairfield, ME (PRWEB) October 27, 2012
On the Friday of November 30, 2012, premier antiques and collectibles auctioneer James D. Julia of Fairfield, Maine will be selling off the original Coca-Cola founding legacy and the only known vintage 19th century albumen photograph in existence of Dr. John Pemberton, the celebrated inventor of Coca-Cola. In the photo Pemberton stands in the doorway to Coca-Cola co-founder Asa G. Candler's original Atlanta pharmacy - and not far from Candler himself.
With the possibility that the auction sale may rekindle the infamous "Cola Wars" between Pepsi Cola (Pepsico) and Coca-Cola (The Coca-Cola Company), the Fairfield, Maine based auction house is excited about the prospects for the sale of Pemberton's photo, which it claims embodies only 'The Real Thing!'
Most interesting is that it now seems that the 'Dr. Pemberton' Coca-Cola has been promoting is not 'The Real Thing.' Rather, newly discovered photographic evidence found in the United States Library of Congress apparently reveals that the 'Dr. Pemberton' likeness widely promoted by the soda giant is nothing more than a artist impression based on a old photograph of Civil War Lieut-Gen'l John C. Pemberton; possibly an uncle to Dr. John Stith Pemberton.
Significantly, Dr. Pemberton, a morphine addict said to have developed his condition as a result of a Civil War injury, died of cancer in August 1888; approximately four months after the "1888 Asa G. Candler & Co." photo was taken at 47 Peachtree Street, Atlanta.
In 1910, Asa Candler, the infamous Coca-Cola co-founder ordered all original corporate documents burned and destroyed, which Coca-Cola historian Mark Pendergrast documents in his book For God, Country and Coca-Cola. This incident contributed to the original "1888 Asa G. Candler & Co." photo's exclusive rarity today. Also according to Pendergrast, in 1914, original Coca-Cola Company shareholder Margaret Dozier threatened legal action over an alleged forgery of her signature on her share title transfer document for the original 1888 founded company. The authenticity of Pemberton's 1888 title transfer signature was also raised at this time by Dozier.
The original only extant mounted "1888 Asa G. Candler & Co." albumen photograph was discovered at a Atlanta, Georgia flea market back in the late 1990's by the auction consignor; author and historian Richard Warren Lipack - also credited with discovering the only extant manuscript journal of Wm. Fothergill Cooke, the British telegraph inventor who perfected the world's first electronic communications system in 1840.
Surprisingly, the "1888 Asa G. Candler & Co." photograph was later discovered by historian Lipack to be illustrated in the Coca-Cola founder's biography Asa Griggs Candler, written by son Charles Howard Candler and published in 1950 by Georgia's Emory University. Little detail about the photo however, was provided in the book.
Lipack subsequently worked with reference archivists at the Manuscript, Archives, and Rare Book Library at Emory, further documenting the "1888 Asa G. Candler & Co." albumen specifics. Damage and emulsion loss that had occurred to the right hand edge emulsion section of the original "1888 Asa G. Candler & Co." albumen when the card stock mount and photo sustained damage and cracks prior, was detected in the modern mid-20th century Kodak "Velox" copy photographs only available on file in the Asa Griggs Candler and Candler family papers at Emory. This indisputably proved that all of the known modern mid-20th century Kodak "Velox" copy photographs extant were made from the original "1888 Asa G. Candler & Co.' albumen. Reference archivists at the Manuscript, Archives, and Rare Book Library at Emory University believe this photograph to be the same one reproduced in Candler's son's 1950 historical tome. .
Stated by Charles Howard Candler in his book, his father Asa managed to purchase the controlling shares to the original Coca-Cola Company on April 14, 1888, the very same day it is believed the "1888 Asa G. Candler & Co." photograph was actually taken. In the image, Dr. John S. Pemberton is seen next to his name on a Candler pharmacy storefront window along with two drink elixirs Pemberton was marketing then.
Of possible interest to modern venture capitalists today is "Lemon Orange E," one of these elixirs. This drink, if placed into today's market, combined with Pemberton and Candler's earliest previously unknown images - may be suitable for trademark registration and distribution without a license required from the Atlanta cola giant!
The original Candler pharmacy building shown in the photo is where the first Coca-Cola syrup was first manufactured. At the main storefront window reading "Asa G. Candler & Co.," Candler stands proudly holding a piece of paper in one hand. This paper is believed to be the actual transfer contract and also the infamous Coca-Cola 'secret recipe.'
The original Coca-Cola "French Wine Coca" drink name is also found on the window next to Dr. Pemberton.
A delightful documentary movie is available for viewing at the James D. Julia, Inc., auction website found at; http://www.jamesdjulia.com/auctions/div_catalog_335_sh.asp
And at; http://www.jamesdjulia.com
Plus more details are found at: http://www.echoback.com/jamesdjuliainc/
Other "1888 Asa G. Candler & Co." photo details are seen at: http://en.wikipedia.org/wiki/Coca-Cola and at; http://www.alternativ.info/doc/nyheder/ny20120702_cola-og-sundhed.mv
As a Coca-Cola collectible, the "1888 Asa. G. Candler & Co." photograph is the earliest known piece of Coca-Cola memorabilia extant. When it crosses the auction block, there should be considerable interest in this new photographic discovery of the real Dr. Pemberton, especially since the cola soft drink giant has been using what the 1888 photo owner claims is not the real Dr. Pemberton; but rather an artist fantasy drawing. Actually, different likenesses of John Pemberton have been used to date. How many faces of Dr. Pemberton does Coca-Cola have? A question now arises: When will the next Coca-Cola "Jack-in-the-box" appear?
The Coca-Cola company museum in Atlanta does not possess a 19th-century original example of this historic photograph.
With an estimate of value set by the auction house for the photo placed at $50,000 to $75,000, the sale of the original only known "1888 Asa G. Candler & Co." photo is believed will finally set the record straight respective of the real Dr. Pemberton - once and for all!
A special auction preview and world unveiling of the historic 19th century photographic image is set for Tuesday, November 27, 2012.