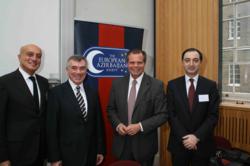 Azerbaijan will be the enabler of the Southern Corridor
London (PRWEB UK) 25 October 2012
Decision-makers, diplomats and leading academics debated some the main topics regarding the future of European energy security at the BTC and Beyond conference at King's College, London, on 24 October, attended by around 80 delegates. Organised to commemorate the tenth anniversary of starting construction work on the Baku-Tbilisi-Ceyhan (BTC) pipeline, which brings up to a million barrels of oil each day from Azerbaijan to the Mediterranean coast of Turkey, the event began with keynote speeches from H.E. Fakhraddin Gurbanov, Azerbaijani Ambassador to the UK; H.E. Ünal Çeviköz, Turkish Ambassador to the UK; and H.E. Giorgi Badridze, Georgian Ambassador to the UK.
The conference, co-organised by The European Azerbaijan Society (TEAS), took place at a pivotal time regarding the construction of the Southern Corridor of pipelines, which will bypass Russia and bring Caspian energy to the EU, with Azerbaijan playing a dual role as an energy producer and transit country. The Shah Deniz II development – destined to bring an additional 10bn cubic metres (bcm) of gas to Europe per year (with 6bcm going to Turkey) – is set to come on-stream in 2017. Earlier this year, transit protocols were signed between Azerbaijan and Turkey, making the Trans-Anatolian Pipeline (TANAP) viable. Next year, the Shah Deniz Consortium will decide whether the route to Europe will be through the Nabucco West or Trans-Adriatic Pipeline (TAP). Recent discoveries in Azerbaijan include the Umid field, claimed by experts to contain up to 600bcm of gas.
Ambassador Gurbanov commented: "The BTC pipeline was constructed after several years of negotiations, and received strong political support from the West. The South Caucasus region provides the key to EU energy security. When gas is supplied from Shah Deniz II, this will be hugely important. Azerbaijan will be the enabler of the Southern Corridor. In January 2011, José Manuel Barroso, President European Commission, acknowledged that this would represent the future of EU energy supply. During a visit to Baku, Günther Oettinger, EU Energy Commissioner, stated that he attached great importance to the development of the Southern Corridor."
Ambassador Çeviköz said: "The BTC connected two nations – Azerbaijan and Turkey, and served to create a Mediterranean oil hub in my country. Its construction had an impact on the global energy markets, and its success exemplified the role of Turkey as a transit country. When Shah Deniz II comes on-stream, Turkey will play a key role in a broad vision, and the port of Ceyhan will become of pivotal importance."
Ambassador Badridze stated: "The BTC continues to be a great success story, and has transformed our three countries. The project could have easily gone wrong, and there was much political bargaining over the route. It also ushered in economic reforms in Georgia, which had been ravaged by Communism. The Southern Corridor will also play an invaluable role in bringing Central Asian resources to Europe."
Chris Pincher MP, Chair, Azerbaijan All-Party Parliamentary Group (APPG) said: "New power maps are now being developed. Currently, the UK is responsible for 49 per cent of all foreign direct investment (FDI) into Azerbaijan. It is essential that the Southern Corridor is supported on all sides."
John Roberts, Energy Security Specialist, Platt's, commented: "There is a need for good governance in the energy debate, and that is why energy security is rooted in these countries. The BTC has helped Azerbaijan generate considerable revenues, and been responsible for great change. The Southern Corridor also has the potential to bring Kazakh and Turkmen gas to Europe."
Other speakers included John Baldwin, Group Political Advisor, BP UK; Angus Miller, Caspian Energy Advisor, Foreign and Commonwealth Office; Christian Dolezal, Head of Communications and Public Affairs, Nabucco Gas Pipeline, and Michael Hoffmann, Director, External Affairs, Trans-Adriatic Pipeline.
Following numerous questions from the floor, the speakers and delegates continued their conversations during a networking session.
In addition to TEAS, the conference was organised by the European Centre for Energy and Resource Security (EUCERS), the German Institute for International and Security Affairs (SWP) and King's College, London.