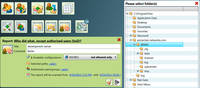 "By integrating the 8MAN Logga feature with our 8MAN Data Owner concept, we can focus on tracking only client sensitive or mission critical information saving the organisation time, resources and storage space," said Steven Bennett, EMEA Head of Channel
(PRWEB UK) 26 October 2012
8MAN Logga, a new 8MAN feature, tracks unauthorised access to sensitive and critical information and provides automatic reporting, complete with documented audit trails and timely alerts. The file server monitor feature registers and saves all requests and actions on selected file server directories. 8MAN Logga records which data was accessed by whom and what actions were performed. If a selected file server directory was accessed, 8MAN Logga can determine who accessed it, when they accessed it and also which data was read, edited or changed in any way.
All and any file, folder and directory access requests can be recorded. However, a significant amount of valuable storage space can easily be consumed if the system is not making intelligent selections of which information assets to track and record. With 8MAN Logga, organisations can select only those files, folders and directories that need to be monitored for compliance and security purposes.
Company data can broadly be divided into three categories: critical, sensitive and general information. Around 80% of the data a company holds on its servers is not business critical or sensitive in nature.
"By integrating the 8MAN Logga feature with our 8MAN Data Owner concept, we can focus on tracking only client sensitive or mission critical information saving the organisation time, resources and storage space," said Steven Bennett, EMEA Head of Channel, protected-networks.
Changes in business operations and processes are inevitable - triggered by growth, new technologies and/or external factors. These changes have direct implications on the administration rights within an organisation. With 8MAN Logga organisations can document whether the current administration rights are appropriate for the changing strategy and operations. Employees can then be provided with the information access they need to meet their business goals and objectives.
About protected-networks: Founded in 2009, protected-networks GmbH is a Berlin-based company that develops integrated solutions for access rights management of server environments across all business sectors and at public authorities. The solution, 8MAN is an Information Trust Software based on an innovative approach to integrated data security management and offers uniform and automated management of user rights. Clients thereby save cost and time while increasing protection against unauthorised internal access.