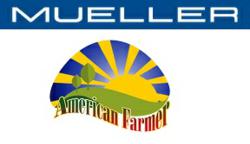 Springfield, MO (PRWEB) October 26, 2012
For over seventy years, Paul Mueller Company has earned distinction for delivering outstanding equipment and unique solutions to the process industries.
Founded in 1940, Paul Mueller Company has evolved from a small-scale fabricator into a global process solution provider. Mueller delivers outstanding equipment and unique solutions to the process industries using technical expertise, innovative engineering, and manufacturing resources.
This particular episode of American Farmer will showcase the Dairy Equipment Division at Paul Mueller Company. Through a behind the scenes look at their outstanding equipment and unique solutions provided to the process industries, viewers will learn about dairy farm equipment, like Paul Mueller Company's Sentry® ITM, an information technology manager that allows dairy farmers to monitor their operations from remote locations via a computer.
"The Dairy Farm Equipment division of Paul Mueller Company is very excited to be featured on America Farmer. We look forward to sharing with the dairy industry our latest innovations in milk cooling equipment that can help producers maintain the quality of their product and reduce their operating cost."
"Paul Mueller Company changes with the times to improve their process in order to produce the best product," said Charlie Cowan, Senior producer for American Farmer. "Paul Mueller Company plays a key role in the technology and advancements of dairy farm equipment, and I'm excited to feature them on our show."
Paul Mueller Company focuses their extensive resources, process experience, and craftsmanship on solving clients' processing needs. Paul Mueller Company is committed to meeting and exceeding customers' expectations of value by providing quality equipment and excellent service.
About Paul Mueller
Paul Mueller Company, centrally located in Springfield, Missouri, specializes in the design and manufacture of stainless steel tanks, processing systems and equipment for the food, dairy, beverage, chemical, biofuels, pharmaceutical, biotechnology, and pure water industries. For over half a century, the Dairy Farm Division of Paul Mueller has built the industry's highest quality milk cooling and storage systems. The continual advances in system operations and pioneered systems are helping reduce energy costs to the dairyman and allow them to operate more profitably. Equipment is designed for either large or small dairies and can be customized to meet the unique cooling needs of any diary. With proven product performance and customer service, Mueller is recognized as "The Milk Cooling Systems Specialists."
For more information visit: http://www.paulmueller.com or call 1-800-MUELLER
About American Farmer:
American Farmer is a breakthrough program on a mission to showcase the latest advancements in agriculture and farming. From seed to harvest, livestock and more, our producers have traveled the country covering the people, places and issues impacting all areas of farm country.
For more information visit: http://www.dmgproductions.org or call (866) 496-4065.
Media Contact:
Charlie Cowan, Producer
(866) 496-4065 x 875