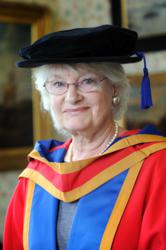 A dazzlement of surprise; that is how I feel right now
(PRWEB UK) 27 October 2012
Liz, who has launched the Harry Potter series along with Booker winners Margaret Atwood and Michael Ondaatje and Nobel literature laureate Nadine Gordimer through Bloomsbury Publishing, was honoured for her contribution to the literary industry.
During her address to students graduating from the School of Arts and Humanities, she said: "I want to leave you with a thought; it's a quotation from the great scientist and writer Lewis Thomas who really bought our science and literature together."
She continued, "He said, statistically the probability of any one of us being here is so small that you would think the mere fact of existing would keep us all in a contented dazzlement of surprise. A dazzlement of surprise; that is how I feel right now."
Six other extraordinary individuals have been honoured for achievements within their field during this week's Graduation Ceremonies, including John Burton, co-founder of the non-profit environmental organisation World Land Trust and Britain's former number 1 female tennis player and Olympic hopeful Elena Baltacha.