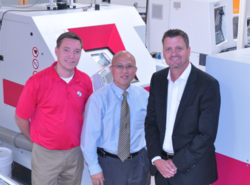 "The Schneider line gives us significant momentum for future growth,"
-- John Greco, RO's Director of Lab Operations
Rochester, NY (PRWEB) October 29, 2012
Rochester Optical, an innovative wholesaler and manufacturer of high-quality digital lenses, welcomed the leadership team from Schneider Optical Machines USA to its the state of the art optical laboratory in on October 16th, 2012. Schneider USA's President Kurt Atchison and Director of Sales Kevin Cross were among the visiting delegation. Rochester Optical CEO Patrick Ho and Director of Lab Operations John Greco joined them on a tour of the facility.
"Schneider equipment is not only the best equipment for today's technology; it also has the capability to handle tomorrow's technology," says John Greco, Rochester Optical's Director of Lab Operations. "The Schneider line gives us significant momentum for future growth."
Rochester Optical redesigned its optical lab in 2011. The high-efficiency design and equipment upgrades culminated with the installation of the Schneider line of equipment. The lab also added a conveying system to tie in the automated generators and a centralized chilling and filtration system.
"We can do it all," says Greco. "We have become an industry leader in our region."
###
Rochester Optical, founded in 1932, is an innovative manufacturer and distributor of high quality digital lenses, eyewear and eyeglasses. The Rochester, NY based company serves optical professionals, military and government agencies, and other companies with fashion, performance and safety eyewear. Its full service optical lab provides a wide variety of services, including in-house digital lenses, its own state-of-the-art A/R coating lab, and specialty glass fabrication. Rochester Optical has been named as one of Rochester, New York's Top 100 Fastest growing companies three years in a row. Visit them on the web at http://www.rochesteroptical.com.