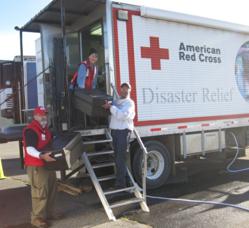 The words 'durability' and 'lightweight' just weren't words that could describe the same catering container, until Thermohauser created the Thermo Box.
Springfield, MA (PRWEB) October 26, 2012
For months catering and baking supply company SonRidge, LLC tried convincing Red Cross chapters to try out their innovative insulated catering carriers. When no one wanted to chance that such a lightweight carrier could do the job, SonRidge donated six of the containers to the Pioneer Valley Chapter of the Red Cross last month. "We knew that once the Red Cross put the carriers to the test, they would become the product's latest fan," said SonRidge Partner, Chuck Attridge.
After testing the lightweight pan carriers this summer, Brenda Brouillette, Red Cross' Regional Emergency Service Director for Central and Western Massachusetts, was eager to put them into full service. "We love them at our chapter," said Brouillette. "We have used them a few times and they have worked really well."
Bulk food transport may not seem like an exciting topic, but for those in the industry who had only been accustomed to bulky insulated food containers, these boxes are somewhat of a phenomenon. "The words 'durability' and 'lightweight' just weren't words that could describe the same catering container, until Thermohauser created the Thermo Box," said Attridge.
Thermohauser, headquartered in Germany, has been developing top quality food service equipment for bakeries, restaurants and caterers for over 85 years. They constructed the insulated food containers from Expanded Polypropylene (EPP), an engineered plastic material used in other such applications as car bumpers and sports protective gear. Those in the "green" crowd like the fact that it is 100% recyclable.
Brouillette was so impressed with this improvement that she brought them to some of the Red Cross sister chapters throughout New England. Attridge was then invited to the Red Cross mass care training event, where mass care sheltering and feeding staff from all over New England assembled. There Attridge could answer questions directly from those working with the mobile kitchens and Emergency Response Vehicles, which distribute mobile meals and handle bulk distribution during larger disasters.
The Thermo Box has proven quite versatile. "We needed a lightweight solution for transporting large amounts of food by bicycle," said Kristopher Schlesser, owner of LuckyBolt, a bicycle catering company in San Francisco. "Furthermore we needed to be able to carry both hot and cold items at the same time."
The Thermo Box' light weight and ability to retain temperatures have made it possible to transport hundreds of fresh lunches to hungry workers all over the city. Schlesser added, "Apart from doing a good job of transporting food, the Thermohauser boxes do a great job of looking really cool. People can't help but stare at all the boxes stacked on top of our bicycle trailer. It's a great way of engaging people in conversation on the street."
The boxes are being acquired for uses other than catering transport as well. "The carrier's properties are opening many doors for us. We now have hospitals and laboratories using them to control temperature fluctuations of medical supplies, such as blood and platelets," Attridge said. Thermo boxes are available on SonRidge's online Web store, http://www.SonRidge.com.