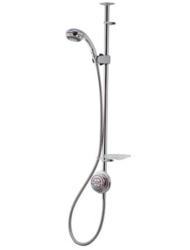 Taking regular warm showers before bed will condition the body and mind into a bedtime routine, which should help to ease sleep problems and insomnia.
(PRWEB UK) 25 October 2012
The stresses of modern daily lives mean that many people do not achieve enough sleep. In fact, according to research conducted by the British Heart Foundation, around one in three people do not get enough sleep, despite the health benefits associated with a good nights' sleep. One way to improve sleep and feel completely rested, is to take a warm shower before bedtime.
The benefits of warm showers
Warm showers have been shown to have several health benefits in addition to making us feel cleansed and refreshed. These health benefits include easing stress and tension, clearing congestion and improving circulation. Another benefit from taking a warm shower before bed time is improved sleep patterns, which can help those who suffer with insomnia and sleep problems.
A warm shower is defined as being between 35 – 40 degrees Celsius. Anything hotter can actually increase the metabolic rate, and rather than encouraging relaxation and stress-relief, will invigorate and energize. The warm water and steam created by the shower induce the body into sleep mode by warming the body temperature. Then, after finishing the shower and entering the bedroom, our body temperature starts to cool down. This incites drowsiness and aids the process of falling asleep. Taking regular warm showers before bed will condition the body and mind into a bedtime routine, which should help to ease sleep problems and insomnia.
Warm showers have also been shown to provide stress relief, which can be linked to sleep problems. Adding essential oils to your shower, such as lavender oil, which is a natural relaxant, can also help to relieve stress and aid sleep.
Modern day showers, such as thermostatic mixer showers have made showering an even more relaxing and easy experience. The thermostatic valves in modern mixer showers constantly control the temperature of the water and prevent unpleasant temperature fluctuations when water is used elsewhere in the home. Similarly, through the use of illuminated flashing lights, digital showers, such as Gainsborough's digital range, intelligently advise users when the optimum water temperature has been reached and the shower is ready to go.
In addition to a warm shower before bed, The Sleep Council also recommends the following advice for a good night's sleep:

Get into a sleep routine – going to bed and getting up at approximately the same time each day will help the body to sleep better.
Create a peaceful and calming environment – make sure the bedroom is used only for rest and sleep and lose the TV, laptop and mobile. The room should also be kept as quiet and dark as possible and the temperature of the room shouldn't be too hot or too cold – between 16 and 18 degrees is ideal.
The most important part of the bedroom, the bed, should be comfortable and supportive, and not too soft, hard or old.
Regular exercise has been shown to relieve stress, and activities such as swimming and walking can help to aid sleep patterns. Exercise should be avoided just before bedtime as it may have the opposite desired effect.
Reduce the amount of stimulants, such as tea and coffee, which contain caffeine, in the evening as they can interfere with sleep. A hot milky drink or herbal tea before bed is preferable.
Undertake some relaxing activities, such as yoga or listening to peaceful music, before going to bed.
If daily stresses are interfering with sleep, make a list of tasks to be tackled the following day.