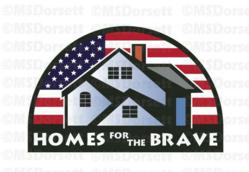 Dennis was invaluable in taking much of the stress out of this transaction. My husband had already transferred so selling the home quickly was important.
Virginia Beach, VA (PRWEB) October 26, 2012
Dennis Blackmore experienced Virginia Beach REALTOR®/Agent Owner with Creed Realty and Charles D. Pittman, Attorney/Owner with Real Estate Legal Services announce Just Launched Military Real Estate Homeowners Short Sale Team for Armed Forces personnel stationed in Virginia Beach, Norfolk, Portsmouth, Chesapeake,Suffolk, and the greater Hampton Roads area.
Military personnel facing an upcoming Permanent Change of Station (PCS) transfer strugle enough stress with relocation of family and belongings. With this in mind, military members should not hesitate about doing a short sale.
There is Good News – the Just Launched Military Real Estate Short Sale Team of Dennis Blackmore and Attorney Pittman can help these struggling home owners.
Why Military Personnel should consider these 5 Good Reasons to Short Sale a home:
Reason #1 to Short Sale.
No Pursuit of Deficiency Judgement – Eliminate the debt from an underwater Virginia Beach or Hampton Roads Home mortgage. The short sale effect on the credit score is minimal and in many cases military personnel are able to purchase another home shortly thereafter. A short sale may help Military Personnel avoid potential security clearance issues versus a foreclosure.
Reason #2 to Short Sale.
No Requirement to Show Hardship if Transferring (PCS). Military Personnel orders are the short sale hardship. Now Military Members can move to the new duty station and not have to worry about the family staying behind to maintain financial stability or renting the home for less than the mortgage payment.
Reason #3 to Short Sale.
The Military Member's Virginia Beach or Hampton Roads Home will be marketed aggressively and professionally with maximum web exposure to local contacts and the Mulitiple Listing Service. More than 75% of Virginia Beach and Hampton Roads home buyers start their search on the internet. A REALTOR® who will get you on page 1 of Google and other search engines is very important.
Reason #4 to Short Sale.
Legal Stuff - The Military Member's Virginia Beach or Hampton Roads Home is professionally handled by a Law Firm. They do the paperwork, the negotiations, and the closing ensuring the Military Member is properly represented in this legal real estate transaction whether he or she is locally or across the country.
Reason #5 to Short Sale.
Peace of mind for the Military family. Our Military Member's have paid their dues to this country and should take advantage of this once in a lifetime opportunity to get a "Fresh Start". Others Military Member's have and more will. The program will not last forever and should be taken advantage of now.
The Charles Pittman law group has helped complete hundreds of Virginia Beach and Hampton Roads short sales over the past years.
Dennis Blackmore, REALTOR® and Charles Pittman, Attorney at Law will provide invaluable information and analysis to choose the best and most realistic course of action for the Military Member and family and then help the home owner quickly and efficiently to accomplish chosen objectives.
Stop the stress and contact Dennis Blackmore or Charles Pittman (Real Estate Legal Services) to get started on the road to recovery of life and finances.