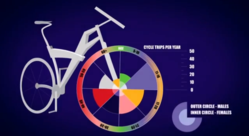 London (PRWEB UK) 29 October 2012
Over the last decade, cycling has become an increasingly popular option for those looking for a healthy mode of transport and an alternative to environmentally-unfriendly cars. And it seems that people aren't viewing cycling as simply a means of getting from A to B; according to British Cycling, membership numbers have seen a 100% increase since 2008, a leap which Accident Claims suggests means many are taking up biking as more than a hobby.
While the advantages of bike-riding are clear, the activity does not come without its drawbacks. According to RoSPA, 17,000 cyclists are killed or injured in the UK every year, with reported injuries typically including damage to joints or soft tissue, blackouts, post-traumatic stress disorder, bone fractures, and paralysis. Those on bikes are generally considered to be more vulnerable than the average road user, with little equipment available to keep cyclists protected from even minor accidents.
Additionally, many people feel that there is a significant lack of provisions for bike lovers in key European cities, especially when compared to other countries such as Holland, where a large proportion of the population cycles. Looking at the statistics found in the video, we can see that around 50% of cyclist fatalities occur on rural roads, while 75% of accidents occur at or near a road junction, suggesting not enough is being done across the country to keep our roads safe for all.
But despite these disadvantages, the benefits of cycling are said to significantly outweigh the risks. The video launched this week by Accident Claims aims to raise awareness of these benefits and highlight why we should be getting on our bikes as well as draw attention to the importance of improving our roads. Although some progress has been made by various campaigns (such as The Times' Cities Fit For Cycling) and a level of support has been offered by London Mayor Boris Johnson, there is still much to be done before the cycling community gains full confidence in British biking.
You can view the full video here.
Osbornes Solicitors LLP is a limited liability partnership, registered in England and Wales (registered number OC357803) which is regulated by the Solicitors Regulation Authority. They specialise in Family Law (including international adoption and child abduction), Property Law, Property Litigation, Social Welfare, Wills, Probate & Disputed Estates and Personal Injury.
Osbornes Solicitors LLP
Livery House
9 Pratt Street
London NW1 0AE
Tel: 020 7485 8811
Fax: 020 7485 5660