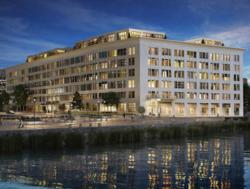 New York, NY (PRWEB) October 25, 2012
Cooper Square Realty, the New York subsidiary of FirstService Residential Management, has been selected to manage 184 Kent Avenue, a landmark rental building located in the Williamsburg section of Brooklyn.
Cooper Square Realty's Rental Division, headed by Vice President Robert Klehammer, is responsible for the day-to-day operations of the property from an on-site office. The building, which is listed on the National Register of Historic Places, has 338 residential units and 17,850 sq. ft. of commercial space.
Located on the East River waterfront, 184 Kent Avenue is a Cass Gilbert-designed building constructed in 1915. In its earliest incarnation as a waterfront warehouse, the building housed Austin, Nichols and Company, the largest grocer in the city. The building's amenities package includes a roof top deck, 24 hour doorman and concierge, resident lounge and a fitness center with river views.
Cooper Square Realty has decades of experience meeting the distinctive needs of high-profile luxury properties. The addition of this rental residence reinforces the company's standing as the largest property management company in New York City
"As a result of our size and experience in the New York City market, Cooper Square Realty is able to offer a variety of unique programs that build value for our clients – above and beyond ordinary property management," says David Kuperberg, founder and Chief Executive Officer of Cooper Square Realty. Programs range from discounted tax certiorari, insurance, and purchasing programs, to bulk energy purchasing, online lease applications, and a Customer Care Center that addresses tenant inquires 24 hours a day, seven days a week.
About Cooper Square Realty
Cooper Square Realty is the premier residential property management company in New York City and also offers project management and energy management services. Cooper Square's portfolio comprises upwards of 500 condominiums, cooperatives, and rental properties with an aggregate value of over $6 billion. The company manages more than 70,000 residences that are home to more than 200,000 people. These include distinctive lifestyle properties such as The Plaza Residences, luxury residential towers such as New York by Gehry, new developments, prewar landmark buildings, and apartment complexes. Further information is available at http://www.coopersquare.com.
Cooper Square Realty is a subsidiary of FirstService Residential Management (FSR). FSR is the largest manager of residential communities in North America, overseeing more than 5,600 properties and over 1.3 million residential units.
###