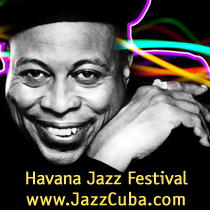 The stages and streets of Havana will be alive with the sounds of music and laughter.
Blaine, Washington (PRWEB) October 25, 2012
December 2012 marks the 28th edition of the Havana International Jazz Festival. Once again, Cuba Education Tours and the Cuban Institute of Music is inviting you to experience this celebration of music and culture on their popular nine-day Havana Jazz Festival Tour.
This world-class event highlights some of today's most popular performers and sets them against an island backdrop rich in history and romance. This year, five-time Latin Grammy Award winner Chucho Valdés will be joined by Cesar Lopez and Havana Ensemble, Joaquin Betancourt, Amadeo Rolden String Quartet, Arthur O'Farrill, Havana D'Primera, Alejandro Falcon, Frank Fernandez, Michel Herrera, Omar Puente, AFROCUBA, Emilio Morales, Alfred Thompson and many more.
The Official Havana International Jazz Festival Tour takes place from December 16 to 24, 2012.
With Cuba Education Tours, jazz enthusiasts and music lovers of all kinds will thrill in VIP access to the festival's gala opening, closing ceremonies and all events in between. In addition to the benefits offered by this special Gold All Access Pass, guests on this economical tour will enjoy a fully guided stay on the island, a complete schedule of engaging activities, chauffeured transportation and most meals.
"The stages and streets of Havana will be alive with the sounds of music and laughter. This is one of our most popular tours. Guests come for the jazz but leave with new friendships, increased understanding and memories to last a lifetime," said Marcel Hatch, President of Cuba Education Tours.
Past participant, Bill Fairchild, said this about his tour experience: "Music was everywhere in the restaurants, bars, and on the streets. I heard many of my favorites from the mambo and cha cha chá days of the 1950s and 1960s."
"The whole week was well thought out and we got to see many sites that otherwise we wouldn't have known about," added Jane Godfrey, a guest on the 2011 Jazz Festival Tour.
A detailed daily tour itinerary is available at JazzCuba.com
Cuba Education Tours ensures safe, legal travel. Participants enjoy the services of a full-time guide together with a dedicated coach chauffer. Its island staff is fluent in English and well versed in history, music and culture. They are eager to answer all questions candidly.
About Cuba Education Tours: Established in 1997, Cuba Education Tours has helped thousands of North Americans have an authentic Cuba experience. Their varied and economical tour packages are available for individuals, schools, businesses and religious and community groups. The organization's experienced Cuban, American and Canadian staff is committed to ensuring an enjoyable, educational and hassle-free travel experience for each and every participant. Cuba Education Tours is recognized on the island as the foremost North American organization promoting friendship and understanding.