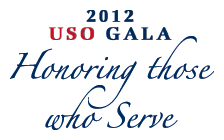 (PRWEB) October 25, 2012
WHAT:
2012 USO Gala: Honoring those who Serve
WHEN:
Friday, November 2, 2012
4:30 p.m. Media in place for interviews
5:00 p.m. USO Service Member of the Year interviews
6:30 p.m. Welcoming Reception & VIP Red Carpet (media by request only)
7:30 p.m. Dinner & Evening Program
WHERE:
Washington Hilton
1919 Connecticut Avenue, NW
Washington, DC 20009
WHO:
Spirit of the USO Award recipients

Admiral Michael G. Mullen, USN (Ret) and Mrs. Deborah Mullen
Featured Entertainment

Jordin Sparks, 19 Recordings/RCA recording artist
Mistress of Ceremonies

Allison Seymour, Fox 5 Morning News Anchor
Sloan Gibson, President, USO
USO Service Members of the Year

Soldier of the Year: Staff Sergeant Jacob J. Perkins, C Troop, 1-89 Cavalry, Fort Drum, NY
Marine of the Year: Sergeant Clifford M. Wooldridge, Training Company, Marine Corps Security Force Regiment (MCSFR), Naval Support Activity Northwest Annex, Chesapeake, VA
Sailor of the Year: EOD2 (EWS) Gregory F. Gaylor, EODMU Three, Naval Base San Diego, CA
Airman of the Year: Staff Sergeant Christopher S. Beversdorf, Tactical Air Command and Control Journeyman, 25th Air Support Operations Squadron, Wheeler Army Airfield, HI
Coast Guardsman of the Year: ME2 Nicholas A. Beane, Explosive Detection K9 Team, USCG Maritime Security Response Team Chesapeake, Virginia Beach, VA
National Guardsman of the Year: Senior Airman Evan J. Stevens, 183rd Fighter Wing's Security Forces Squadron, Abraham Lincoln Capital Airport, Springfield, IL
USO Volunteer of the Year

Special Guests and Presenters

Kelli Finglass, Director of the Dallas Cowboys Cheerleaders
The Dallas Cowboys Cheerleaders, America's Sweethearts
Chip Bok, National Editorial Cartoonist
Bruce Higdon, Caricature/Army Cartoonist
Ed Steckley, MAD Magazine
WHY:
The USO is continuing a time-honored tradition of recognizing the bravery and sacrifice of an enlisted hero from each branch of the military with the USO Service Member of the Year Award. Also being recognized are the USO Volunteer of the Year and the Spirit of the USO recipients.
For more than 70 years, the USO has been lifting the spirits of America's troops and their families. An estimated 1100 guests will gather to pay special tribute to our men and women in uniform. Guests will include Washington dignitaries, celebrities, Members of Congress, military leadership, members of the USO Board of Governors and USO Corporate sponsors.
The USO is a private, nonprofit organization, not a government agency. All of our programs and services are made possible by the American people, support of our corporate partners and the dedication of our volunteers and staff.
Chair:
David J. McIntyre, Jr., TriWest Healthcare Alliance
Co-Chairs:
Rima Al-Sabah, Sylvia M. Panetta, Barbara Levin, Patricia McKeon, Deanie Dempsey, Mary Jo Myers, Margaret Gibson
Sponsors:
Chairman
TriWest Healthcare Alliance
Vice Chairman
Chevron
jcpenney
Procter & Gamble
Four Star
Military.com
Three Star
Express Scripts Federal Pharmacy Services
Huntington Ingalls Industries
Northrop Grumman Corporation
Tickets: $1,000 per ticket. $15,000 per table. Contact: gala(at)uso(dot)org
For more information, visit uso.org/gala
# # #