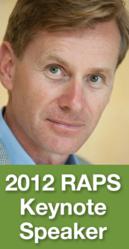 Regulatory leaders play an important role in helping their organizations navigate a world full of change
Rockville, MD, USA (PRWEB) October 25, 2012
Noted business author and professor of management, Morten Hansen, will deliver the opening keynote address Sunday, 28 October, at 2012 RAPS: The Regulatory Convergence at the Washington State Convention Center in Seattle. 2012 RAPS is the annual conference of the Regulatory Affairs Professionals Society (RAPS), taking place 26–30 October. The event is the largest annual gathering for regulatory professionals from around the world working for pharmaceutical, biotechnology, medical device and other related companies; regulators; researchers; academics and others involved in the regulation of healthcare and related products.
Hansen is the co-author of Great by Choice and author of Collaboration. His award-winning research has been published in leading academic journals, and he is the winner of the Administrative Science Quarterly award for having made exceptional contributions to the field of organizational studies. He also has published several highly regarded articles in the Harvard Business Review on collaboration, leadership and innovation. He is a management professor at the University of California, Berkeley, School of Information, and at INSEAD in Fontainebleau, France.
"Regulatory leaders play an important role in helping their organizations navigate a world full of change," said Hansen. "In our book, Great by Choice, we studied how leaders created truly great organizations in a chaotic world. The key differentiating principles will be very helpful for regulatory leaders who want to elevate their efforts and take on leadership roles in driving change."
Hansen will draw on his extensive experience to address how regulatory leaders can blend creativity with discipline to elevate not only their own performance, but also the vital role regulatory plays in building a truly great enterprise in the type of uncertain environments healthcare organizations face today. Hansen also recently spoke with RAPS' Regulatory Focus about achieving greatness by managing chaos and risk.
More information about 2012 RAPS and a complete listing of all conference sessions and events are available at http://www.RAPS.org/2012. The Twitter hashtag for the conference is #2012RAPS.
Members of the working media who wish to cover all or part of 2012 RAPS should contact Zachary Brousseau, senior manager, communications for RAPS. On-site registration also will be available for media with valid press credentials or a letter from an assigning editor on company letterhead.
About RAPS
The Regulatory Affairs Professionals Society (RAPS) is the largest global organization of and for those involved with the regulation of healthcare and related products, including medical devices, pharmaceuticals, biologics and nutritional products. Founded in 1976, RAPS helped establish the regulatory profession and continues to actively support the professional and lead the profession as a neutral, non-lobbying nonprofit organization. RAPS offers education and training, professional standards, publications, research, knowledge sharing, networking, career development opportunities and other valuable resources, including Regulatory Affairs Certification (RAC), the only post-academic professional credential to recognize regulatory excellence. RAPS is headquartered in suburban Washington, DC, with offices in Europe and Asia, and chapters and affiliates worldwide. RAPS.org
###