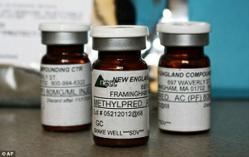 It is very important that patients who received injections of the recalled drug look out for any symptoms.
Newport Beach, CA (PRWEB) October 26, 2012
The death toll from fungal meningitis linked to tainted steroid injections has increased to 23. According to an Oct. 22 ABC news report, the U.S. Centers for Disease Control and Prevention (CDC) has increased the tally of cases to 297 spanning 16 states. The report states that the infections have been linked to contaminated vials of methylprednisolone acetate, an injectable steroid used to treat back and joint pain, which was manufactured by the New England Compounding Center in Framingham, Mass. The center has recalled all its products and shut down operations. About 14,000 patients are believed to have with injected with the suspect steroids, ABC News reports.
According to CDC's website, some of the most common symptoms of meningitis include fever, headache, stiff neck, nausea and/or vomiting, sensitivity to light and altered mental status. The website states that fungal meningitis is usually caused by the spread of a fungus through the blood to the spinal cord. Although anyone can get fungal meningitis, people will weakened immune systems, such as AIDS and cancer patients, are at higher risk.
CDC officials also say that in the case of the tainted steroids, the longest duration from the time of injection to onset of symptoms in the current outbreak is 42 days. It could take even longer for symptoms to surface, the ABC report states. Once detected and diagnosed, fungal meningitis can be treated with high doses of intravenous antifungal medications, the report states.
It is very important that patients who received injections of the recalled drug look out for any symptoms, says John Bisnar, founder of the Bisnar | Chase personal injury law firm. "Even experts don't know how long the symptoms can take to surface," he says. "Those who have received these injections should report any symptoms to their doctor, regardless of how mild they may be."
Bisnar says it is the responsibility of manufacturers to ensure that their products are safe for consumers. "I certainly hope there is a criminal investigation into how or why this contamination occurred," he said. "Twenty three people have lost their lives and many others have been sickened as a result of someone's negligence."
About Bisnar | Chase
The Orange County product liability lawyers of Bisnar | Chase represent victims of dangerous and defective products. The firm has been featured on a number of popular media outlets including Fox, NBC, and ABC and has developed a reputation for providing proven results from trusted professionals. Since 1978, Bisnar | Chase has recovered millions of dollars for victims of auto accidents and victims of other serious personal injuries.
For more information, call 800-561-4831 or visit http://www.orange-county-lawyers.com for a free consultation.
Sources: http://abcnews.go.com/Health/Wellness/meningitis-outbreak-297-cases-23-deaths/story?id=17534445#.UIgOdGf5PK0