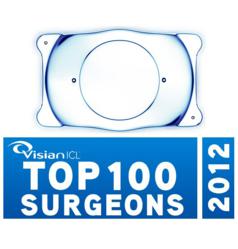 "The Visian ICL technology is key to treating patients who are too nearsighted for our Custom Wavefront LASIK. I'm honored to receive this award and remain committed to providing the best quality of care for our patients."
Charlotte, NC (PRWEB) October 30, 2012
Ophthalmologist Jonathan Christenbury, MD of the Christenbury Eye Center in Charlotte, North Carolina, has been awarded a Top 100 Surgeons award by STAAR Surgical Company, in recognition of his performance as a top implanter of the Visian Implantable Collamer® Lens (Visian ICL®). Dr. Christenbury was the first surgeon in the Carolinas to offer Visian ICL for people with moderate to severe nearsightedness or myopia.
Visian ICL was introduced in 2005 and still remains a leading technology to treat myopia and severe nearsightedness. The Visian ICL is a lens that is inserted into the eye without the removal of the natural lens. This lens functions much like an "internal contact lens," and is completely maintenance free. Patients not only regain their near sight, but they no longer need to clean, lubricate or search for lost lenses.
"We are committed to using state-of-the-art technologies to treat our patients," says Dr. Christenbury. "The Visian ICL technology is key to treating patients who are too nearsighted for our Custom Wavefront LASIK. I'm honored to receive this award and remain committed to providing the best quality of care for our patients."
Also, the Visian ICL is extremely safe and the lens has been inserted into more than 300,000 eyes worldwide. Dr. Christenbury has successfully performed more than 5,000 procedures using this technology and others since 2005.
Christenbury Eye Center offers comprehensive eye care, from regular vision checkups to cataract surgery and IntraLASIK (blade free LASIK) laser vision correction. To learn more about the Visian ICL technology, contact Christenbury Eye Center at (877) 702-2020 or visit the Christenbury website for more information.
About Christenbury Eye Center
Dr. Jonathan Christenbury established Christenbury Eye Center in 1987 and is known for his groundbreaking work in vision care. For more than a decade he has consistently been one of the first surgeons in the Carolinas to perform many pioneering vision care procedures including LASIK, Visian ICL, and ReSTOR.
Dr. Christenbury performed the first LASIK procedure in the Carolinas in the early 1990s and since that time has performed more than 75,000 laser vision correction procedures. He also performed the first IntraLASIK procedure on the East Coast in 2002 and the first WaveFront Customized IntraLASIK in the Carolinas in 2005. In the Spring of 2005, the doctor was the first Carolinas eye surgeon to perform the ReSTOR® procedure, used both for the treatment of cataracts and for Presbyopia, eliminating reading glasses and bifocals. Today, Dr. Christenbury is the most experienced ReSTOR surgeon in the United States.
About STAAR Surgical Company
STAAR, which has been dedicated solely to ophthalmic surgery for over 25 years, designs, develops, manufactures and markets implantable lenses for the eye. All of these lenses are foldable, which permits the surgeon to insert them through a small incision. STAAR's lens used in refractive surgery as an alternative to LASIK is called an Implantable Collamer® Lens or "ICL." A lens used to replace the natural lens after cataract surgery is called an intraocular lens or "IOL." Over 300,000 Visian ICLs have been implanted to date; to learn more about the ICL go to: http://www.visianinfo.com. STAAR has approximately 300 full time employees and markets lenses in approximately 50 countries. Headquartered in Monrovia, CA, it manufactures in the following locations: Nidau, Switzerland; Ichikawa City, Japan; Aliso Viejo, CA; and Monrovia, CA.