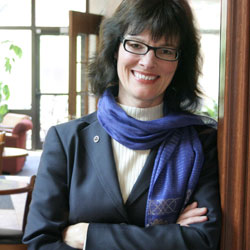 I'm honored to help provide such support and guidance on behalf of both United and ATS.
Dayton, OH (PRWEB) October 29, 2012
United Theological Seminary is proud to announce that its own President Wendy Deichmann was elected to serve in a leadership role on a women's committee she has been a member of for two years.
At the recent 2012 biennial meeting of the Association of Theological Schools (ATS) in the U.S. and Canada, President Deichmann was elected to serve as Chair of the Women in Leadership (WiL) Committee for a two-year term, following her membership on the Committee for the previous two years.
"When women are called into leadership, they deserve their colleagues' support," said Deichmann. "I'm honored to help provide such support and guidance on behalf of both United and ATS. The church and academy cannot afford to miss out on the leadership many women have been gifted and called to provide. So I count it a privilege to assist with this important work."
Through the work of WiL, the international accrediting association "provides educational support for women faculty and administrators and assists schools in their efforts to include more women in leadership positions." This includes professional development for women through ATS-sponsored events, including an annual conference for women in faculty and administrative positions, a retreat for senior administrators and research geared toward supporting the roles of women in leadership in theological education.
While the number of women serving as faculty and administrators in theological education is growing gradually, it is far behind the pace of growth of the percentage of female students. For example, United remains the only free-standing United Methodist seminary to have appointed a woman as president to date, while it is not unusual for women to constitute half of the students at traditional Protestant seminaries, including those that are United Methodist in affiliation.
Founded in 1871 by Milton Wright, United Theological Seminary is one of the fastest growing theological schools in the United States. It offers accredited, innovative graduate and non-degree education programs for both clergy and laity. For more information about United and its programs, please click here.