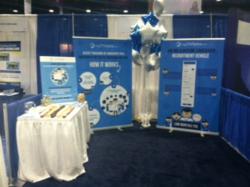 We're thrilled to report that 100% of attendees chose the free trial in lieu of the immediate cash
Chicago, IL (PRWEB) October 25, 2012
myCNAjobs, a recruiting platform for senior home care agencies, was proud to exhibit at the National Association of Home Care and Hospice Annual Meeting earlier this week. The myCNAjobs Recruitment Squad, equipped with i-Pads, shared the revolutionary ready-to-work caregiver network, job board functionality, and partnership strategy to fuel caregiver recruitment in an industry plagued by high turnover and little loyalty.
"Home Health and Private Duty Agencies now have the ability to spend less time and money on recruiting while keeping the pipeline full of quality, available talent," comments Brandi Kurtyka, Chief Marketing Officer.
As part of the demo, attendees were offered a free month trial to test the product or receive $1.00 for their time in exchange for listening to a 60-second demo with a Recruitment Squad team member.
"We're thrilled to report that 100% of attendees chose the free trial in lieu of the immediate cash," adds Kurtyka. "More importantly, it's an offering that many felt would make strategic sense to add to their caregiver recruitment strategy when arriving back to their offices on Monday morning."
Feedback from myCNAjobs users who have already started using the platform has been overwhelmingly positive. Our clients are telling us that the ready-to-work caregiver network coupled with recruiting support from real people behind the curtain is boosting efficiency, helping them hire more quickly while also lowering overall time to hire," says Kurtyka.
If you missed the demo during the NAHC conference or would like to learn more, visit myCNAjobs.com.
About myCNAjobs
myCNAjobs, a caregiver and CNA recruitment vehicle, is a comprehensive resource to find rewarding work and hire caregivers and certified nursing assistants more effectively.