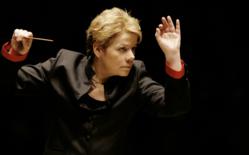 Baltimore, Md. (PRWEB) October 25, 2012
In the first Off the Cuff concert of the 2012-2013 season, Music Director Marin Alsop leads the orchestra in Beethoven's Fifth Symphony, November 9 at 8:15 p.m. at the Music Center at Strathmore and November 10 at 7 p.m. at the Joseph Meyerhoff Symphony Hall. In this look into one of the most recognizable pieces in classical music history, Maestra Alsop delves into the history of the work, offering insight on how this piece still captures the imagination after more than two centuries. Please see below for complete concert details.
The opening four notes of Beethoven's iconic Symphony No. 5 are arguably the most recognized notes in the classical genre. This opening gesture has been frequently featured in popular culture, from disco to rock and roll, to appearances in film and television. Beethoven completed his fifth symphony in 1808 at a point in his life when he was greatly troubled by his increasing deafness. The Fifth Symphony was premiered on December 22, 1808 at a concert at the Theater an der Wien in Vienna, consisting entirely of Beethoven premieres, and directed by Beethoven himself.
Marin Alsop, conductor
Hailed as one of the world's leading conductors for her artistic vision and commitment to accessibility in classical music, Marin Alsop made history with her appointment as the 12th music director of the Baltimore Symphony Orchestra. With her inaugural concerts in September 2007, she became the first woman to head a major American orchestra. She also holds the title of conductor emeritus at the Bournemouth Symphony in the United Kingdom, where she served as the principal conductor from 2002-2008, and is music director of the Cabrillo Festival of Contemporary Music in California.
In 2005, Ms. Alsop was named a MacArthur Fellow, the first conductor ever to receive this prestigious award. In 2007, she was honored with a European Women of Achievement Award, in 2008 she was inducted as a fellow into the American Academy of Arts and Sciences and in 2009 Musical America named her "Conductor of the Year." In November 2010, she was inducted into the Classical Music Hall of Fame. In February 2011, Marin Alsop was named the music director of the Orquestra Sinfônica do estado de São Paulo (OSESP), or the São Paulo Symphony Orchestra, effective for the 2012-13 season. Ms. Alsop was named to Guardian's Top 100 Women list in March 2011. In the spring of 2011, Marin Alsop was named an Artist-in-Residence at the Southbank Centre in London, England.
A regular guest conductor with the New York Philharmonic, Philadelphia Orchestra, London Symphony Orchestra and Los Angeles Philharmonic, Ms. Alsop appears frequently as a guest conductor with the most distinguished orchestras around the world. In addition to her performance activities, she is also an active recording artist with award-winning cycles of Brahms, Barber and Dvořák.
Marin Alsop has led Baltimore Symphony Orchestra in several key outreach initiatives. In 2008, she partnered with the BSO to launch OrchKids™, a music education and life enrichment program for youth in West Baltimore. In 2010, she conducted the first "Rusty Musicians with the BSO" – an event that gave amateur musicians the chance to perform onstage with a professional symphony orchestra and quickly became a popular component of the BSO's efforts to connect with the community. In June 2010, Maestra Alsop conducted the inaugural BSO Academy – an immersive summer music program that gives approximately 100 amateur adult musicians the opportunity to perform alongside a top professional orchestra.
Marin Alsop attended Yale University and received her master's degree from The Juilliard School. In 1989, her conducting career was launched when she won the Koussevitzky Conducting Prize at Tanglewood where she studied with Leonard Bernstein.
COMPLETE PROGRAM DETAILS
BSO Off the Cuff Concert: Beethoven's Fifth
Marin Alsop, conductor
Beethoven – Symphony No. 5
Tickets range from $28 to $61 and are available through the BSO Ticket Office, 410.783.8000 or BSOmusic.org.
# # #