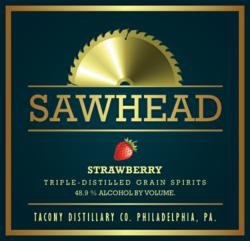 Philadelphia, PA (PRWEB) October 25, 2012
Marketing and real estate entrepreneur Matt Dunleavy, 24, and hip-hop music producer Nicholas "Mazik Beats" Krowchena, 23, of Philadelphia began the rigorous application process today for the construction of a brand new micro-distillery known as Tacony Distillery Co. Their initial plan for the project is to produce lines of timeless spirits including premium vodka, rum, and flavored grain liquor, but ultimately aims to launch prepared cocktail brands in partnership with several music industry celebrities.
Tacony Distillery Co. is preparing to join the wave of successful micro-distilleries which have opened throughout Pennsylvania over the last five years. The debut product line is known as "Sawhead", a high quality grain spirit available in various fruit flavors such as strawberry, banana, watermelon and apple.
"Aside from the lengthy state and federal application process, I anticipate a great deal of headaches along the way as a result of opening here in the city. While in these tough economic times the combination of local job creation and the revitalization of some old industrial real estate in this city should overcome a great deal of those issues. I just hope the local politicians and associations see it the same way." states Dunleavy, co-founder of Tacony Distillery Co.
There are several proposed Philadelphia locations for the distillery operation, including a warehouse located at the intersection of Frankford & Torresdale Avenues which has been vacant for decades, and a commercial warehouse/garage combination on the 2900 block of "C" Street, in which Dunleavy recently acquired ownership interest.
"One of the biggest problems most people face when opening a new distillery here in PA is the real estate, especially in a city like Philly. The collapse of industry here left a lot of factories and warehouses vacant, which provides us with a great opportunity to expand as we need to" states Dunleavy.
Tacony Distillery Co. does not anticipate the initial product launch until 2013 at the earliest due to the pending application process and property renovations.
About Micro-Distilleries
A micro-distillery is a small, often 'boutique', distillery established to produce beverage grade alcohol in relatively small quantities. Under Federal law, a micro-distillery is defined as a manufacturer of alcohol spirits, producing under 100,000 per year.
About Matt Dunleavy
At the ripe age of 24, Matt Dunleavy has architected successful marketing campaigns in various industries over the past seven years including entertainment, technology, and insurance. Dunleavy is also a real estate speculator with an estimated worth of approximately $2.5 Million.
About Nicholas "Mazik Beats" Krowchena
Known in the music industry as "Mazik Beats", Nick Krowchena is a talented hip hop producer having worked on the projects of many well established artists in his professional career.