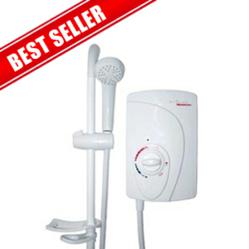 (PRWEB UK) 27 October 2012
The biggest thing people dread in the Winter Season is raising electricity bills. Families can now expect a cut in the high bills with the installation of electric showers. With electric showers, only the amount of water that will be finally utilized is heated. At times, members have different bathing times in a family, especially on a weekend. In winters, they have to curb their time limit for bathing due to limited amount of hot water available. However, with electric showers, there is no such need as water is available all round the day at lower costs. Users can easily install this equipment easily. Families do not have to worry about bathroom redesigning due to its easy installation. Electric showers do not require extensive space. They fit in almost any size of bathroom to offer a warm shower experience.
CNM Online presents a wide variety of electric operated showers in numerous designs, styles, and budget. Families do not have to worry about weekend holidays, as electric showers can travel easily, thanks to its portable size. Electric showers save time and makes way for quick hot bath, with its minimum time requirement for offering steamy water. Families are finally bidding goodbye to chilly baths in winter season. People do not take much time to get ready for schools, offices, or work. They take a quick steamy bath with electric showers and are ready to take on the world. People can even wind up their day with a hot bath as it stimulates sleep and eases stress. A day sans hot bath in winters makes it incomplete. With electric showers, people are saving on their piling electricity bills due to boilers. Besides, electric showers are a boon for the environment as they save energy units to an extent.
Sharing the enthusiasm of making UK winters warm, Senior Spokesperson at CNM Online says, "Earlier electric showers were boring and inconvenient. We at CNM Online introduce charming electric showers that add beauty to the bathroom as well as baths. We have been offering a wide range of solutions at CNM Online and promise to do that in the future as well."
For more information about electric showers, visit http://www.cnmonline.co.uk/home.php
About CNM Online
CNM Online is a family run business founded in 2004. The site has more than 200,000 customers and believes in offering solutions rather than products. The largest supplier of heating products for home, CNM Online offers a range of efficient and affordable solutions.