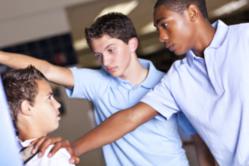 ... bullying behavior tends to peak in middle school and then decrease. "
Eugene, OR (PRWEB) October 29, 2012
"Bullying is a widespread problem among adolescents in the U.S.," says Steven Ungerleider, Ph.D., founding editor of The Prevention Researcher. "And, with the emergence of cyberbullying, the problem has moved beyond face-to-face to the electronic world of cell phones and computers. Prevention and intervention has become even more difficult with no easy answers to stopping bullying behavior by young people."
In an article published in The Prevention Researcher, Jing Wang, Ph.D. and Ronald J. Iannotti, Ph.D. describe the prevalence and demographic differences for both traditional bullying and cyberbullying among U.S. adolescents, reviews risk and protective factors, and discusses the effectiveness of current prevention and intervention programs.
"Studies on traditional bullying," say Drs. Wang and Iannotti, "have consistently found that boys are more involved in physical and verbal bullying, whereas girls are more likely to be involved in relational bullying. Generally, bullying behavior tends to peak in middle school and then decrease."
The authors note that "overall boys are more likely to be cyberbullies, whereas girls are more likely to be cyber victims. With regard to grade level, some studies have found cyberbullying peaks during middle school, while others have either found a higher prevalence among high school students or no grade differences."
Regarding risk and protective factors, Wang and Iannotti say "studies have consistently shown certain individual physical characteristics, such as being overweight or underweight, may put students at higher risk of being a target of traditional bullying." Furthermore, "lesbian, gay, bisexual, and transgender (LGBT) students are more likely to be victims of physical, verbal, or relational bullying."
Drs. Wang and Iannotti note that the "distinct characteristics of cyberbullying, such as potential anonymity of the bully and rapid dissemination of the message, make it challenging for school staff and parents to identify the problem. In addition, studies have shown that a better understanding of similarities and differences between traditional bullying and cyberbullying would be beneficial for intervention purposes."
In reviewing prevention programs in schools, Wang and Iannotti found "the most important program components have been identified, including parent training/meetings, improved playground supervision, disciplinary methods, classroom management and a whole-school anti-bullying policy." In addition, "given the overlap between traditional bullying and cyberbullying, the current prevention and intervention programs on traditional bullying should also be useful for preventing cyberbullying."
The authors conclude that "certain individual characteristics, low social support, and unfriendly school climate may put children and adolescents at higher risk to be involved in bullying and may lead to a series of future psychosocial and behavioral problems." They recommend for cyberbullying that "parents, schools, and communities need to work together to address the issues, be aware of the current technological trends, and respond with appropriate monitoring systems and educational advice."
For a copy of the complete article on "Bullying Among U.S. Adolescents", link directly to The Prevention Researcher or http://www.tpronline.org.
About The Prevention Researcher
Founded in 1994, The Prevention Researcher is published by the non-profit, Integrated Research Services in Eugene, Oregon. The quarterly journal focuses on successful adolescent development and serves professionals who work with young people in a variety of organizational settings.
Each issue of The Prevention Researcher covers a single topic, presenting the latest adolescent behavioral research and findings on significant issues facing today's youth. The journal provides information about programs that create supportive environments for youth, strategies for preventing problems affecting adolescents, and resources that help youth-serving professionals.