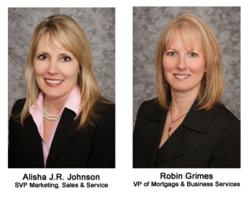 PCU has a wealth of internal talent and expertise. By tapping these resources, we have made some positive changes for our organization as we plan for the future.
PCU President Brian Sherrick
Woodbury MN (PRWEB) October 30, 2012
With Executive Vice President Brian Sherrick taking over as President/CEO, Postal Credit Union in Minnesota recently announced a number of personnel changes to its management team. Among those changes are the promotion of Alisha JR Johnson to Senior Vice President, Marketing, Sales and Service, and Kelly Johnson to Senior Vice President Loans. Robin Grimes was also promoted to Vice President of Mortgage/Business Services.
Alisha Johnson joined PCU in 2010 as Vice President of Marketing. She has over has 20 years of experience in the financial services industry, and previously served as Chief Marketing Officer for Highland Bank and Vice President of Marketing for Signal Financial Corporation. In Johnson's new position, she will direct and manage the delivery of marketing, sales and service through all delivery channels - Branch, Call Center, Outbound TeleSales, Indirect Business Development, Electronic Branch and Mobile. Ensuring consistency with PCU's mission, markets served, policies and member communications while continuing to drive PCU's competitive position in the marketplace.
Kelly Johnson joined PCU in 1989, and has worked in the Cash Services, Special Accounts, and Member Service areas. Prior to his current promotion he served as Vice President of Member Remote Services and Risk Management, where he directed the credit union's remote lending and member service activities. As Senior Vice President of Lending, Johnson will oversee all lending specialties of PCU - Consumer, Indirect, Mortgage, Business and Special Accounts. His responsibilities include managing and monitoring PCU's lending policy and serving as the Credit Manager for the Credit Union. In addition, he is responsible for PCU's compliance with all governmental regulations.
Robin Grimes joined PCU's mortgage department in 1995 and served as Director of Residential Mortgage prior to her promotion. In her new role Grimes will administer and supervise the origination, processing and servicing of real estate and commercial functions.
"PCU has a wealth of internal talent and expertise," commented Sherrick. "By tapping these resources, we have made some positive changes for our organization as we plan for the future."
Founded in 1926, PCU is a member owned financial institution that specializes in providing excellent member service, great rates and convenience. PCU offers a complete range of services, including 24/7 loan approval, mortgages, online banking, online deposits, mobile banking, free checking, business services, investment services and more. PCU is proud to serve Anoka, Chisago, Dakota, Hennepin, Ramsey and Washington counties, with office locations in Eagan, Hugo, North St. Paul, West St. Paul and Woodbury. For more information, contact PCU at 651-770-7000, 800-247-0857 or visit http://www.postalcu.org.