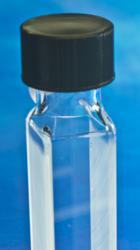 With every UV cell NSG produces, the pinnacle of optical quality is ensured
Farmingdale, NY (PRWEB) October 29, 2012
This past month, NSG Precision Cells, responding to increasing consumer demand has rolled out a new line of glass cells for colorimeters and several new UV cell types. Types 93, 96 and 97, all new additions to NSG's line, are the ideal glass cells for colorimetric applications and fit most standard machines such as ACS, Data Color, Forston Labs, Hunter and X-Rite.
With the Type 93 glass cells, customers have a choice between 2, 5, 10, 20, 30 and 50mm lightpaths. Type 96 glass cells come with 2.5, 5, 10, 20, 40 and 100 options and Type 97 comes standard with a 40mm lightpath. Made from the highest quality optical glass, these glass cells have a usable range of 320-2,500nm, which is perfect for colorimeters, which tend to operate in the 400-700nm range.
This new addition complements NSG's already existent line of disposable polystyrene cuvettes, such as the Type 1PS, which are frequently used for colorimetric assays. With all bases covered, laboratories can now have the choice between rapid assays via disposable cuvettes or more delicate measurements with NSG's high-grade glass cells.
In an ongoing effort to cater to the precise needs of laboratories, NSG has also made several additions to its line of UV cell products. The new Type 0005-0023-2 is a dye laser flow through UV cell that fits most of the major dye laser machines on the market such as Quanta Ray, Lambda Physik and LAS dye lasers.
These new cells complement the already existing Type 2267 and Type 0210, which have been in high demand for the past several years. Dye laser cells are manufactured with very tight tolerances and surface flatness, which ensures minimal wall tension for the laser to penetrate. NSG guarantees that only the best products leave their factory.
NSG has also revamped its prior line of tandem cuvettes to complement its standard UV cell line. New arrivals in this series are the Type 25, an open-topped UV cell and the Type 56, a tandem UV cell with stoppers for each chamber. Tandem cuvettes make it possible to take measurements with two separate solutions in each chamber. Tandem cells also offer customers the option to rapidly run multiple samples since two different solutions can be inserted without having to remove the cell from the spectrophotometer.
With every UV cell NSG produces, the pinnacle of optical quality is ensured. All cells are fire-fused without using any epoxies or resins. Fritting a UV cell, a technique used by most of NSG's competitors, will often result in a sloppy end-product with imperfections that adversely affect the optical quality. Many fritted cells will leak making them completely unusable. Scientists try to save valuable grant money on cheap cells, but always end up spending more due to the poor quality.
With NSG's new UV cell line and glass cell additions, customers have spoken and NSG has responded. Over the next few months, the company plans to roll out new lines of refractometers, evacuable dyes, pipettes and quartz windows.
About NSG Precision Cells
NSG Precision Cells, Inc. was founded in 1958 and has been growing ever since. NSG Precision Cells, Inc. is a well established, highly regarded quartz manufacturer and we specialize in the manufacturing of quartz flowcells, quartz flow channel cuvettes, quartz microchips, quartz cuvettes, and other quartz optical products.